Podcast: Download (52.5MB)
This podcast focuses on Criterion's Eclipse Series of DVDs. Hosts David Blakeslee and Robert Nishimura give an overview of each box and offer their perspectives on the unique treasures they find inside. In this episode, David and Robert are joined by special guest Scott Nye to discuss Silent Naruse, a collection of Mikio Naruse's five surviving films that he directed for Shochiku Studios in the early 1930s.
About the films:
Mikio Naruse is one of the most popular directors in the history of Japanese cinema, a crafter of heartrending melodramas often compared with the work of Yasujiro Ozu and Kenji Mizoguchi. From the outset of his career, with his silent films of the early thirties, Naruse focused on characters, mostly women'"geisha, housewives, waitresses'"carrying on despite the compromises and disappointments of confined daily lives, a subject that would continue to fascinate him for the next three decades. Though he made two dozen silent films, only five are known to exist today; these works'"poignant, brilliantly photographed and edited dramas all'"are collected here, on DVD for the first time and featuring new scores by noted musicians Robin Holcomb and Wayne Horvitz.
Subscribe to the podcast via RSS or in iTunes.
Timeline for the podcast:
Introduction (00:00:01 – 00:13:07)
Flunky Work Hard (00:13:08 – 00:23:13)
No Blood Relation (00:23:14 – 00:46:27)
Apart From You (00:46:28 – 01:04:51)
Every-Night Dreams (01:04:52 – 01:23:12)
Street Without End (01:23:11 – 01:45:34)
Conclusion (01:45:35 – 01:54:28)
---
Buy The Box Set On Amazon: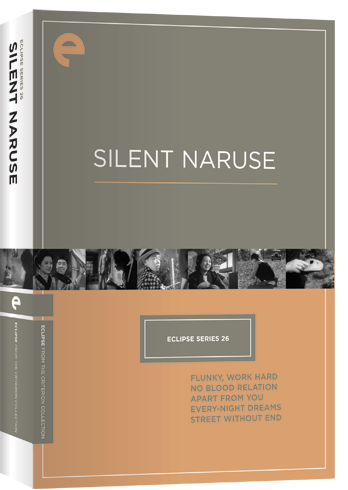 Hulu Plus Links:
---
Episode Links:
Naruse Overview:
Senses of Cinema essay by Alexander Jacoby
Slant Magazine's online database of Naruse film reviews by Keith Uhlich
Mikio Naruse – A Modern Classic Midnight Eye essay by Eija Niskanen
Flunky, Work Hard:
No Blood Relation:
Apart From You:
Every Night Dreams:
Street Without End:
Scott's Series of Naruse Reviews
Recommended Reading (Books Cited in the Podcast)
---
Next time on the podcast: Eclipse Series 11: Larisa Shepitko
Music for the show is from Fatboy Roberts' Geek Remixed project.
Contact us: