Podcast: Download (43.6MB)
This podcast focuses on Criterion's Eclipse Series of DVDs. Hosts David Blakeslee and Robert Nishimura give an overview of each box and offer their perspectives on the unique treasures they find inside. In this episode, David and Robert are joined by Ryan Gallagher as they take a look back at the Eclipse Series releases of 2012, and peer ahead to anticipate (or just wish) what 2013 may have in store.
About the Eclipse Series:
Eclipse is a collection of lost, overshadowed or forgotten classics in simple, affordable editions. Each series is a brief cinematheque retrospective for the adventurous home viewer.
Subscribe to the podcast via RSS or in iTunes.
Timeline for the podcast:
Introduction (00:00:01 – 00:05:08)
Three Popular Films by Jean-Pierre Gorin (00:05:09 – 00:15:08)
Pearls of the Czech New Wave (00:15:09 – 00:27:16)
Up All Night with Robert Downey Sr. (oo:27:17 – 00:35:15)
Jean Gremillon During the Occupation (00:35:16 – 00:43:33)
Maidstone and Other Films by Norman Mailer (00:43:34 – 00:49:59)
Three Wicked Melodramas from Gainsborough Pictures (00:50:00 – 00:56:43)
When Horror Came to Shochiku (00:56:44 – 01:04:05)
Conclusion (01:04:06 – 01:35:00)
---
Buy The Box Sets On Amazon:
---
---
---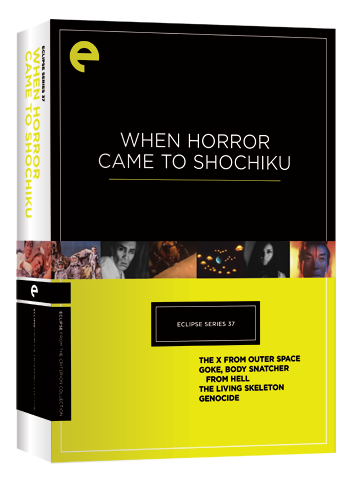 [/column]
---
Episode Links:
Eclipse Series Releases by Year:
2007 – (6) Early Bergman, The Documentaries of Louis Malle, Late Ozu, Raymond Bernard, The First Films of Samuel Fuller, Carlos Saura's Flamenco Trilogy
2008 – (7) Postwar Kurosawa, Lubitsch Musicals, The Delirious Fictions of William Klein, Silent Ozu, Larisa Shepitko, Aki Kaurismaki's Proletariat Trilogy, Rossellini's History Films – Renaissance and Enlightenment
2009 – (4) Travels with Hiroshi Shimizu, Alexander Korda's Private Lives, Nikkatsu Noir, Dusan Makavejev – Free Radical
2010 – (6) Chantal Akerman in the Seventies, George Bernard Shaw on Film, Oshima's Outlaw Sixties, Presenting Sacha Guitry, The First Films of Akira Kurosawa, The Actuality Dramas of Allan King
2011 – (6) Basil Dearden's London Underground, Silent Naruse, Raffaello Matarazzo's Runaway Melodramas, The Warped World of Koreyoshi Kurahara, Aki Kaurismaki's Leningrad Cowboys, Sabu!
2012 – (7)
Three Popular Films by Jean-Pierre Gorin
Pearls of the Czech New Wave
Up All Night with Robert Downey Sr.
Jean Gremillon During the Occupation
Maidstone and Other Films by Norman Mailer
Three Wicked Melodramas from Gainsborough Pictures
When Horror Came to Shochiku
No reviews available (yet) on CriterionCast.com
Next time on the podcast: Eclipse Series 31: Three Popular Films by Jean-Pierre Gorin
Contact us: