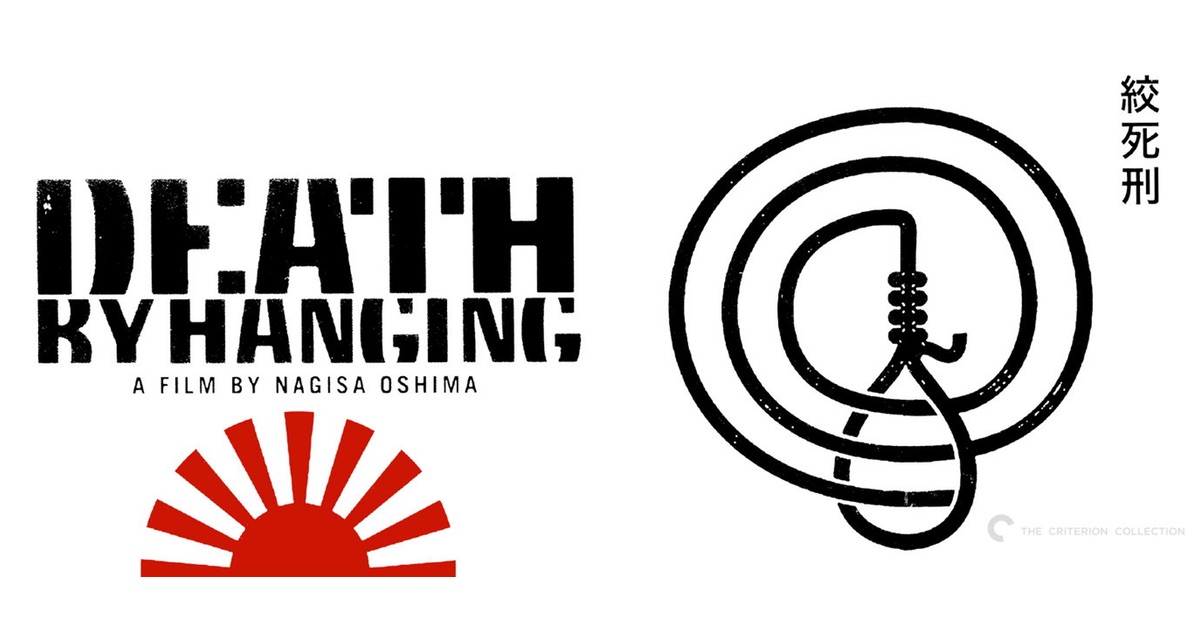 With the exception of several crowd-pleasing samurai epics (like Zatoichi and Three Outlaw Samurai) and a few bargain-priced historical costume dramas (such as The Ballad of Narayama and Gate of Hell), the flow of newly released Japanese art films by the Criterion Collection has slowed to a trickle over the past five years or so. (And for the sake of politeness and avoiding pointless controversy, I won't invoke Jellyfish Eyes in this argument either.) We've obviously enjoyed a steady stream of chanbara, Ozu and especially Kurosawa Blu-ray upgrades during this past half-decade, and there have been several outstanding Japanese sets recently issued as part of the Eclipse Series as well, but we really haven't seen much else along these lines in the main lineup since Kaneto Shindo's Kuroneko came out in the fall of 2011. That's over 200 spine numbers ago! But I'm happy to report that the drought may soon be over. With this week's unveiling of Nagisa Oshima's Death by Hanging, last month's The Complete Lady Snowblood and the near-certainty that Shindo's The Naked Island will be coming out sometime later this year (thanks to the New Year's Wacky Drawing hint), those of us who have been longing to see more creative risk-taking from Criterion's handling of Japanese cinema of the 1960s and subsequent decades can find reason to hope that the trend will continue.
For those who are still in the process of expanding their familiarity  with Japan's rich film history beyond the genre flicks and revered names mentioned above, the work of Nagisa Oshima demands attention at some point relatively soon in the process of exploration. I can't necessarily guarantee that appreciation of those classics will automatically translate into admiration for Oshima's achievements, but he's a figure of such major significance, with a filmography of such deep and radical complexity, that the sooner one makes his acquaintance, the more time one has to process the information and draw an informed conclusion about how much further to go with it. Of course, in the minds of most contemporary cinephiles, Oshima's primary reputation still rests on his later work, particularly In the Realm of the Senses from 1976, made notorious by its explicit sexuality and violence, and 1983's Merry Christmas, Mr. Lawrence, starring David Bowie. Both of those titles are available as proper Criterion editions on Blu-ray, along with Empire of Passion, which still lingers behind as a DVD-only release.
But a case can be made that without background knowledge of Oshima's creative roots, those later films might too easily be regarded as indulgences in shock and provocation. That's one of the reasons I'm so pleased to see Death By Hanging now available on disc, with supplements that provide context and draw us closer to what I consider to be Oshima's prime. He came up as an employee of the Shochiku studio and achieved respectable success in early films depicting restless Japanese youth culture like Cruel Story of Youth and The Sun's Burial. Both titles are available on Hulu, as is his follow-up Night and Fog in Japan, which ran into serious backlash from the censors who shut the film down after only a few screenings. His restless insistence on following the dictates of his conscience and deliberately upending the received traditions of the Japanese movie industry in the early 1960s led him to become among the earliest and most influential independent directors in that nation, at a time when such blatant non-conformity was almost unheard of.
The first fruits of his excursions into indie filmmaking are contained in the Eclipse Series set Oshima's Outlaw Sixties, which will soon be the focus of our next episode of The Eclipse Viewer later this month. Five features released between 1965 and 1968 demonstrate just how prolific and forcefully creative Oshima was during this time, and it's quite amazing to note that Death By Hanging, deemed worthy of a standalone release, actually fits inside the timeline of that set, premiering in February 1968, after the first four films in that box but before Three Resurrected Drunkards which came out later that same year.
So that raises the question as to why Death By Hanging wasn't included in the Eclipse box, an inquiry made even more pointed when we discover that it was the second of a trio of films in which Oshima focused extensively on the state of relations between the populations of Japan and Korea. The first, known in the West as Sing a Song of Sex but more properly translated A Study of Japanese Bawdy Songs, and the third, Three Resurrected Drunkards, probably do make more sense and deliver a stronger impression when viewed as part of an informal series, but I think withholding Death By Hanging for its own solo package was a smart move for Criterion. This is probably the most instantly accessible and engagingly entertaining film that Oshima made during that era, even for viewers who haven't and maybe even won't ever take the time to look deeper into the ethnic conflicts and tragic cultural history that divided the Japanese and Korean people. It's also the movie that first broke through to Western audiences in the late 1960s, introducing them to this most iconoclastic and challenging of Japanese auteurs.
The movie begins in silence, with a straightforward and earnest text-only presentation of facts and polling data regarding capital punishment, interrogating viewers to reflect on their own opinions on the topic. Though there's no voice inflection that overtly steers our emotions, the simple phrasing of the question – "Have you ever seen an execution chamber?" – posed to those who support the death penalty, takes an almost condescending tone, assuming that for most, the answer is "no." Oshima's voice is then heard describing the location and architecture of the execution chamber, detailing the formal rituals that occur in the moments before the penalty is enforced. (Most of the film takes place in an exact replica of a gallows house that Oshima had built for this purpose, since he couldn't get access to the real thing.) The condemned man is surrounded by witnesses. He's offered a few tokens of humanitarian consideration before the state ends his life: religious observances, a simple but satisfying meal, the opportunity to smoke one last cigarette before approaching the gallows. The witnesses gather, a cross-section of representatives from government, law enforcement, the medical profession and the clergy, all brought together to ensure that this legally sanctioned killing is managed with scrupulous discipline and technical precision.
The cumulative impact of this early scene, loaded as it is with all the smugness and presumption that self-satisfied officialdom typically brings to such occasions, seems to question the legitimacy of any views that favor the death penalty. Oshima seems confident that what he is about to show us will challenge our assumptions and change our minds. Of course, all that depends on just how seriously we take him, or for that matter any film's ability to frame such a complicated issue and alter our beliefs within a short amount of time. But he certainly makes a compelling presentation of his own views, creating scenes, dialog and incredible moments of hilariously painful absurdity that are capable of lingering long in our memory.
For the first ten minutes or so, viewers are led to believe that we're in for a serious examination of an important public policy issue, due to Oshima's unblinking, documentarian approach to the subject. But something unusual happens in the minutes after the trap door releases and sends the condemned man on his brief downward trajectory. The victim, a young Korean man known only as R, fails to die. And with that unusual, utterly unpredictable variation in the normal routine, the authorities find themselves hopelessly confused, conflicted and unprepared to adapt to the new reality they're confronted by: an adjudicated criminal who, due to the abortive execution and its mysterious impact on his memory, has been cognitively and even spiritually changed to a degree that he can no longer be considered legally culpable for the offenses (in this case, rape and murder) that led to his present circumstances. Regulations expressly forbid the execution of anyone found to be mentally incapacitated, and with so many witnesses in the room, no one can be confident that they wouldn't get in trouble if they just proceed to kill the condemned man anyway. In summary, the executioners, just like any other killers, now have the responsibility of disposing a body that they themselves don't know what to do with. Only this one is still alive!
This is the point where Death By Hanging really takes off, leaping into new and exhilarating rhetorical dimensions. Oshima loads up the script with convoluted debates about the law, metaphysics, consciousness and memory, and many other similarly unresolved conundrums involving the nature of our existence. In a panic as they try to figure out what to do, the leaders resort to ridiculous pantomimes of R's reprehensible deeds in an effort to jog his memory, and the delirium only ramps up with each new approach they employ. Their mounting desperation also has the effect of stripping away the thin veneer of respectability that accompany the various roles and titles they've assumed, as we learn about their disreputable pasts and petty vendettas while watching them crack under pressure.
Successive sections of the film are punctuated with hand-written intertitles that frame the particular dilemmas faced by the authorities and the man they intend to kill: "R'S BODY REFUSES TO DIE." "R DOES NOT ACCEPT THAT HE IS R" and so on. (Unfortunately, the chapter stops on the disc don't always correspond to the intertitles – it would be nice if they did.) These handwritten notes are an homage of sorts to the real-life figure that inspired Oshima to make this film. Ri Chin'u was a Korean high school student who lived in Japan and was arrested and condemned to death by hanging in 1958 for raping and killing two female classmates. While he was going through the legal appeal process before his execution, he produced a volume of correspondence letters titled Punishment, Death and Love that caught the attention of the Japanese intelligentsia in the early 1960s, including Oshima, who considered him "the most intelligent and sensitive youth produced by postwar Japan." I'll let Oshima's estimation pass without comment, but just to be clear, Ri did actually die when he had his appointment with the hangman. Still, some of the lines that R recites later in the film are quotes from the book, and they're delivered in a spirit of solidarity with the Korean people who had suffered under decades of very harsh treatment by Japanese citizens in both their native land and while living abroad just across the straits that separate the two countries.
Much of the obvious entertainment value of Death By Hanging stems from the outlandish antics of Fumio Watanabe, a member of Oshima's trusted stable of actors. Here he plays the role of Education Chief, the man considered largely responsible for trying to revive R's conscience by urging him to recall the details of the crimes he committed. Other notables include the prison warden Kei Sato, another familiar face in Oshima's troupe, Akiko Koyama (Oshima's wife at the time) who portrays a mysterious Korean woman identified by R as his elder sister in the latter half of the film, and especially the remarkably detached and self-contained young man who channeled R. He's usually credited on IMDb and elsewhere as Do-yun Yu, but the Criterion liner notes list him as Yung-do Yun. I have no idea how to sort that out, but his performance is unique and riveting.
The disc is admittedly light on special features, though I don't think that should dissuade anyone who appreciates Oshima's talent and creative genius from making the purchase. Besides the liner notes, which feature an essay by veteran film critic Howard Hampton and a brief two page comment by Oshima written at the time that he first released Death By Hanging, we get an interview with Tony Rayns that puts the film in its late-60s context and an illuminating short Oshima released in 1965 titled Diary of Yunbogi.  Adapted from a book popular among Japanese leftists at the time, the film takes an approach similar to La Jetee in telling its story of impoverished Korean children through a montage of still photographs and voice-over narration. Most valuable of all is a pre-release "coming attractions" trailer featuring footage of Oshima explaining his aspirations for the film and inviting potential viewers to see it for themselves. Since I can't do much better than the man himself at selling the general public on the strong points of his work, let me turn it over to Oshima to make the closing argument.