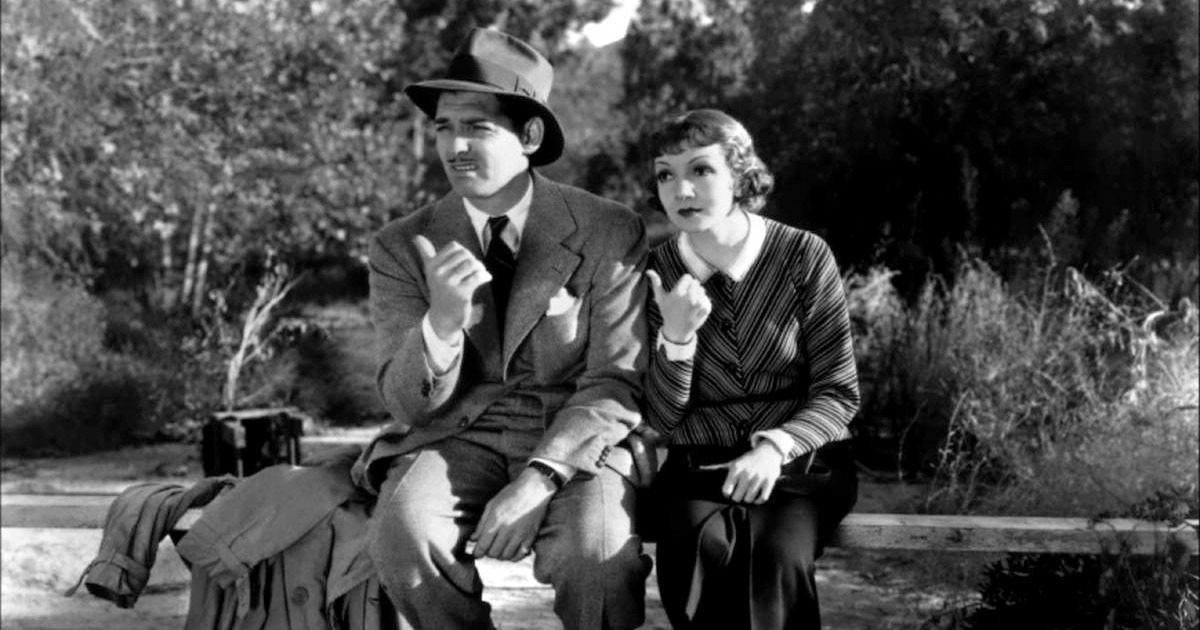 As the Criterion Collection lineup of 2014 nears the conclusion of its roll-out, one of the most notable developments of this year has been the addition of milestone films by some of Golden Age Hollywood's most legendary directors. John Ford has a couple earlier Criterion entries to his credit, but My Darling Clementine is among his very best. Howard Hawks made his CC debut with Red River, and now Frank Capra marks his return to the Criterion fold (after a trio of laserdisc releases back in the 1990's) with the recent release of It Happened One Night, a multiple Oscar winner that pretty much canonized the conventions of the romantic comedy genre, and set a high standard by which future efforts along those lines would be evaluated. Starring a pair of matinee idols, Claudette Colbert and Clark Gable, who rank among the silver screen's brightest stars of that era, It Happened One Night swept all the major categories (Best Picture, Director, Male and Female Lead Actors and Screenplay) in the 1935 Academy Awards ceremony. The film's unexpected triumph launched Frank Capra into the uppermost echelons of Hollywood directors, and he brilliantly parlayed his opportunity to make a series of memorable classics throughout the 1930's and 40's, more or less culminating in the perennial heartwarmer It's a Wonderful Life.
It wasn't too long ago that titles like these were hard to envision ever making their way to the Collection, since the big studios seemed reluctant to relinquish the profits they'd be able to keep for themselves if they issued them on their own labels. But while it's doubtful that Criterion will soon regain the chance to issue enduring blockbusters like Gone With the Wind, Casablanca or The Wizard of Oz, the home video marketplace has shifted just enough over the past few years to create new opportunities for a film like It Happened One Night to receive the special treatment. For viewers who've known this film for years, the new Blu-ray edition affords a sparkling opportunity to experience the film in brilliant high resolution, supported with a sturdy array of complementary supplements. And for those who, like me, were  more familiar with the film by its reputation as the foundational "screwball comedy" or through the occasional random viewings on TV, old VHS transfers or truncated video clips of selected iconic scenes, there is much to enjoy and discover here. As it turns out, It Happened One Night delivers a lot more than the simple, charmingly seductive oldies escapade that I was expecting.
As contemporary audiences have now become exceedingly familiar with, the rom-com formula established by the film involves thrusting two unlikely parts of an eventual romantic couple together  in a situation that neither of them anticipated, and have ample reasons to resist and withdraw from, if only common sense would prevail. The pair works through various levels of conflict, recognizing the urge of erotic attraction but kept in check by pragmatic considerations and an awareness of the disruption that acting on those impulses would create. As the partners grope toward some kind of resolution (should we get together? should we call it off?), the audience is hopefully engaged in the intrigue, hooked by curiosity as to whether or not they'll thread the needle and defy the odds stacked against them to arrive at a place of open acceptance and mutual happiness in the love they share. As the old saying goes, getting there is half the fun, and if the journey is sufficiently entertaining and full of surprises, the audience will have no problem accepting the very predictable conclusion of a Hollywood ending in which love conquers all.
In the case of It Happened One Night, the divisions between the male and female protagonists are based on class and economics. Ellie Andrews is the spoiled daughter of a wealthy, over-protective New York industrialist prone to micromanaging her affairs to the point where she needs to rebel just to assert her own independence and individuality as a modern woman of the 1930s. Limited in options, as were most women of that time, she's chosen to act out by jumping into a quickie marriage against her father's wishes with a man who she doesn't really love but who seems capable of maintaining the pampered lifestyle she's accustomed to. When her dad indicates that he's going to use his clout to get the marriage annulled, she runs away (or in this case, quite dramatically swims away) and escapes his luxury yacht anchored off the coast of Florida. Her intention is to make it back to New York where she can reconnect with her husband and thwart Mr. Andrews' plans to basically bribe him into agreeing with the annulment.
Once she makes it ashore to Miami, Ellie faces the task of avoiding the dragnet that her father put in place to interrupt her journey north. She winds up on a bus, riding incognito, as circumstances fall into place that force her to rely on the assistance of Peter Warne, a newly unemployed newspaper reporter who's thin on options as to what his next move should be in advancing his sputtering career. Though they clash scornfully at first, each sizing the other up as obnoxious irritants, once Peter discovers the secret that Ellie is trying to conceal, he recognizes the value that her story presents if he can sell it to a tabloid willing to exploit her fame and notoriety as a runaway heiress. For her part, Ellie is a vulnerable woman out on the open road, in a landscape she's never explored and outside the hovering safety net that her daddy has kept intact all throughout her life, so she has no choice but to follow Peter's lead. In the process, they begin to open up to each other in ways that are both disarmingly funny and emotionally tender.
This is where the background context, of the USA in the thick of a massive economic depression, begins to weigh in most significantly, as the disparities of wealth and privilege between Ellie and Peter present themselves as formidable obstacles, even as they find themselves drawn into a level of emotional intimacy that  really doesn't hold much promise for the long term. They (and we) both recognize the full extent to which they enjoy each other's company, how good it feels for them to be on this adventure together, not really sure what will happen next as they lurch from one amusing (and occasionally dangerous) predicament to another. The long road trip upon which they embark offers up a splendid, memorable panorama of the times, full of vintage location shots, snappy dialogue, sharply drawn supporting characters, cute musical interludes and a few frisky forays toward the edge of socio-sexual boundaries on film just as the effect of the Hayes Code effect was beginning to be established. (A few samples of all that are offered in the recently published Three Reasons video included below.)
But it doesn't require more than a few minutes' break from the daydream to calculate just how difficult it will be to keep the relationship going whenever life returns to its ordinary routines for each of them. Peter doesn't have the financial means to support the household of an uppercrust brat like Ellie, and Ellie will have a hard time explaining to her father and social circle why she chose to give herself to a scrappy newsman far beneath her station in life. And yet… some force, some power of attraction keeps us compelled to think that one way or another, they need to find the means to make this work, despite the skepticism and distrust that develops when their more cynical assessment of each other's seemingly manipulative, money-driven motives appear to be validated by a surface interpretation of circumstances toward the end of the story. The falling out between Ellie and Peter does indeed seem so thorough and irrevocable that when "the walls of Jericho" that kept them chastely separate throughout the film come tumbling down for real at the end, the turnaround can feel a bit contrived and convenient, especially on the first take. But the wonderfully liberating key to that final act that won this father's heart was the yielding that Mr. Andrews demonstrated when he empathetically recognized the power and depths of his daughter's feelings.
As trite as it might seem to some, I was utterly delighted to see how determined he was to support his beloved child in helping her find the courage to be true to herself, even in defiance of society's expectations and the obligations that she  had unwittingly, naively stumbled herself into. Not to mention a considerable cost to his own personal fortune and reputation! This very winning inclusion of what turns out to be a fairly subversive and unorthodox role model for a father of that time proves to be an important precursor to the kind of social and political challenges that Capra would go on to mount in films like Mr. Deeds Goes to Town, Lost Horizon, Mr. Smith Goes to Washington and the aforementioned It's a Wonderful Life. His reputation for cinematic sentimentalism is such that his films may be unfairly pigeonholed by some as being too corny, mainstream or middlebrow to merit much attention when there are so many other less heralded, obscure and provocative auteurs out there with filmographies waiting to be explored. But the depths of compassion, wisdom and insight that come through in a careful viewing of It Happened One Night are helpfully illuminated and enhanced by the bonus features included on this disc (a retrospective documentary, his AFI Lifetime Achievement ceremony, a conversation between two critics and the fascinating short film Fultah Fisher's Boarding House that started his career.)  They definitely whet my appetite to rediscover some of those classics, plus a few others I haven't yet seen. Here's hoping that Criterion continues whatever efforts were required to secure the rights to this release, so that even more of Capra's work gets the kind of attention that will prolong his  influence on the current and emerging filmmakers of our own day.