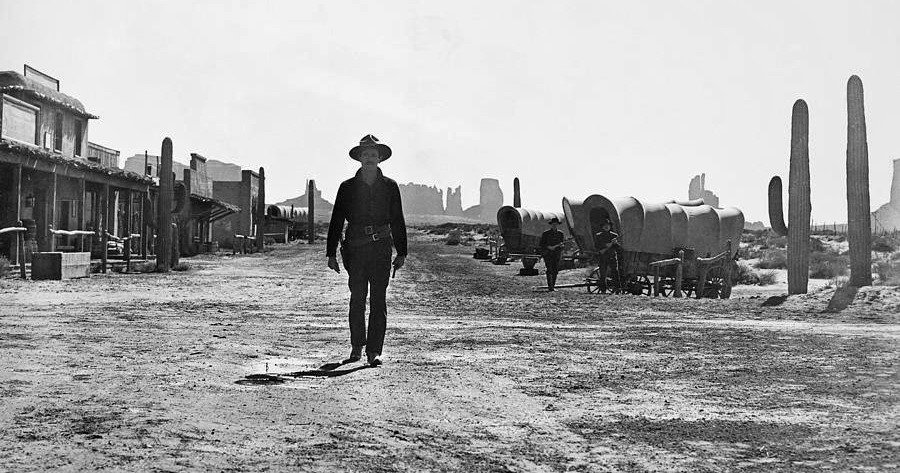 Let me start this review with an acknowledgement that may benefit some readers, even at the risk of alienating others. There was a time, some years ago, when the "feel" of a classic American Western film just didn't fit my mental template of what a Criterion Collection title ought to deliver. My infatuation with the imprint was based in the fascination I felt discovering the cinema of other nations, or in the case of movies originating in the USA, my expectation of something with a rowdy counter-cultural attitude that cut against the mainstream grain. Sam Fuller fit that template, of course. Terry Gilliam too. How about the Maysles, W.C. Fields, Stephen Soderberg, Wes Anderson? Most definitely! I could even buy into the arguments defending the two Michael Bay films, and Kevin Smith's Chasing Amy, for that matter. But Westerns? Horse operas tainted by all the traits of jingoist, triumphalist and occasionally racist baggage attached to the saddles? Not really my thing, to say the least. Blazing Saddles was more along the lines of a Western that I could get into – a movie that openly mocked the conventions, the sentimentality, the presumed ignorance and cornball buffoonery that I had a hard time digesting when I saw men in ten-gallon hats sauntering down dusty streets or pushing their way through the swinging doors of a high plains saloon.
Looking back now on what led to this bias on my part, I'll assign responsibility to early childhood over-exposure to mediocre, formulaic TV Westerns that gave me a sense that these were just shows for the old folks. That youthful aversion was only compounded by the nausea I suffered back in 1980 when Urban Cowboy was released in an effort to do for country music what Saturday Night Fever had done for disco. That heavy-handed hard sell conflicted violently with my identity as a punk rocker at the time. When all that prejudice combined with the notorious brawls that erupted between the Sex Pistols and the drunken bunch of cowboys who accosted the band during their 1979 tour of the American South, it resulted in a colossal barrier between me and genuine appreciation of the genre that's taken me a few decades to overcome. But lest I digress any further, let's return to the subject at hand…
Back in the days when Young Mr. Lincoln was the sole Criterion entry helmed by John Ford, the man considered by many to be the USA's greatest-ever movie director, it seemed like an anomaly to me, with its jaunty soundtrack music, a folksy sense of humor, the family-friendly appeal to wholesome, even downright nostalgic Americana and an apparent lack of that subversive cutting edge that made my discovery of a new Criterion film feel so refreshing from the standard cineplex fare that I'd grown accustomed to. Don't get me wrong – I was able to enjoy Young Mr. Lincoln, and later on, Stagecoach, for what they were – fine films that I could watch casually with my kids, friends and relatives when we were in the mood to enjoy a classic from yesteryear. But Ford's basic approach to story telling lacked (to me, I'm just saying) that sense of the exotic and unfamiliar that I associated with Criterion.
I lead with that sentiment here in the hope that it might connect with readers who harbor some of those same reservations I expressed about going down the Western road that Criterion has been enthusiastically exploring over the past several years. Alongside the two John Ford offerings mentioned above, Anthony Mann's The Furies (2008) was the first true Western to get a Criterion spine number (though two early films by Samuel Fuller, I Shot Jesse James and The Baron of Arizona, both predated that release as part of the Eclipse Series.) It took awhile for Stagecoach (2010) to make it into the collection, but since then we've seen them add a pair of more modern takes (Ang Lee's Ride with the Devil and Michael Cimino's Heaven's Gate) to accompany a rapidly growing subset of titles from the genre's heyday of the 1940s through 1960s – Delmer Daves' 3:10 to Yuma and Jubal last year, and no less than four offerings in 2014: Howard Hawks' Red River was issued this past summer, a pair of Monte Hellman Westerns are coming up in the near future, and most recently, John Ford's My Darling Clementine.
Don't get me wrong – I fully understand that these films have been met with an eager reception by quite a few Criterion fans who are thoroughly delighted by this development. And I'm now glad to count myself among this company. On our recent podcast discussing Red River, I noted my former ambivalence about Western films, but now I feel like I'm making up for lost time. And I'm convinced that My Darling Clementine delivers enough of the goods on multiple levels of cinematic excellence to persuade most, if not all, who hold "cowboy movies" at a distance to lower their defenses and give them a fresh look.
For starters, the images on this new Blu-ray disc are transcendentally beautiful. Having seen the stunning quality of the restored theatrical release in comparison with the scuffed and scratchy pre-release version also included in this package, I'm confident that those who own the film's earlier DVD versions would find the experience quite refreshing, despite its familiarity. I mean, in an era of utterly gorgeous HD transfers of films old and new, there is a quality to the play of light and shadow in My Darling Clementine that struck me as quite unique, riveting my eye to the screen to such an extent that I occasionally found myself losing track of the finer points of the story as I got lost in the sumptuous landscapes, majestic cloud textures and strikingly illuminated profiles of the characters.
Not that the story is especially complicated or hard to track, by any means. For those new to the film, My Darling Clementine is still the definitive, if not strictly the first or most historically accurate, cinematic telling of the tale of Wyatt Earp and the celebrated gunfight at the O.K. Corral that occurred in Tombstone, Arizona back in 1881. That legendary showdown went on to serve as the basis for dozens of film and literary adaptations and variations over the subsequent decades, to the point that the story is firmly embedded in the subconscious of American popular culture. This movie's title, based on an old folk song lament about the beloved daughter of a "miner, Forty-Niner," is at first glance a bit perplexing, since the lyrics have nothing to do with the familiar set-up of white hats poised against black hats in a grim showdown of good versus evil. Latter day retellings are a lot more upfront about their focus: 1994's Wyatt Earp and 1993's Tombstone were both big budget Hollywood efforts to re-establish the myth for modern audiences that achieved mix success. As their instant name-brand titles indicate, today's studios would never allow such indirectness in naming a film aimed at the contemporary action/adventure audience as Daryl Zanuck granted to John Ford back in 1946.
As it turns out, that title is indeed a highly significant indicator of just where Ford wanted to place his emphasis in the storytelling, even as he expertly built the suspense and drama leading up to the inevitable shoot-out. Yes, we do eventually get a hearty blast of six-guns a-blazin' at the end, along with a powerfully kinetic stagecoach chase, some palpable moments of drawn handgun tension and a few outbursts of sadistic, deadly violence scattered throughout. But as big a jolt as those moments provoke, the meatiest portions of the narrative are found in the four-way emotional tangle that develops between Marshal Wyatt Earp, his adversary-turned-ally Doc Holliday and the two women, Chihuahua and Clementine, who have each staked their romantic claims to the Doc, a tubercular would-be boss man in Tombstone who considers himself above the law. It's to Ford's everlasting credit that this rather sensitive, humanizing portrayal of Wyatt Earp never loses its balance to become either mawkishly sentimental or excessively grim in its posturing. For those who've come to regard Earp as a wily, no-nonsense hard ass who's not above mixing vengeful personal motives into his enforcement of the law (based on more recent portrayals in the movies), Henry Fonda's impeccably measured performance is a revelation of subtle nobility. Ford and Fonda sifted through the artifacts left behind by the real Wyatt Earp's own self-mythologizing efforts (books, interviews, Ford's own personal acquaintance with the man himself), taking what they found useful for their own purposes and freely reconfiguring whatever elements they needed to add in order to craft a universally accessible tale that was nevertheless far from cliched or predictable.
So we're presented with a Wyatt Earp who harbors difficult emotions (regret for the part that his negligence played in his younger brother's violent death, romantic attraction – doomed to remain unrequited – to the demure young woman who arrives in Tombstone to pursue the man she loves) but manages them with a patient, taciturn humility that is unquestionably manly even as he refrains from imposing his own will prematurely on the problems that present all around him. Though there are other excellent turns delivered by Victor Mature as Doc Holliday, Linda Darnell as the alluring bar floozy Chihuahua and Walter Brennan as the tyrannical patriarch of the outlaw Clanton family, it's Fonda's mastery that allows the rest of the elements to come together in a story that is deeply enduring and poignantly soul-stirring. For those who've already come to regard My Darling Clementine as one of the high points of American cinema (whether they be genre aficionados or not), this new edition is a crucial "must own" release. For those who, like me, have some reservations about our ability to identify with and feel challenged by old-time cowboy movies, spending an hour and a half in Marshal Earp's company will most likely prove to be positively persuasive.