In seeking to distance themselves from the unfamiliar, people will occasionally say, "Oh, you're just calling it art because you don't understand it." While this is, at face value, an absurd accusation, it reveals a number of inherent truths. First, that we all like a little comprehension in the art and entertainment we consume. Second, and more importantly, it reveals that even those who chide this quality admit that much of art is difficult – if not outright impossible – to really explain. The difference is essentially whether one believes that's a good thing.
Le Pont du Nord is only the second Jacques Rivette film I've seen (after Celine and Julie Go Boating), and I don't really have much a problem with admitting I don't much understand either one. Or, more accurately, explaining them becomes rather difficult, as I feel I do understand them intuitively, but, I know, hell of a lot of good that does you, right? Let's start with the easy stuff – the film follows two women, Marie (Bulle Ogier) and Baptiste (Bulle's daughter, Pascale Ogier), who meet at first, literally, by accident (Baptiste nearly runs down Marie with her motorcycle), then increasingly by chance, and slowly more purposefully. They're not quite friends, but more like accelerated acquaintances, as each requires someone else's assistance several times, and somehow the other always seems to be nearby.
---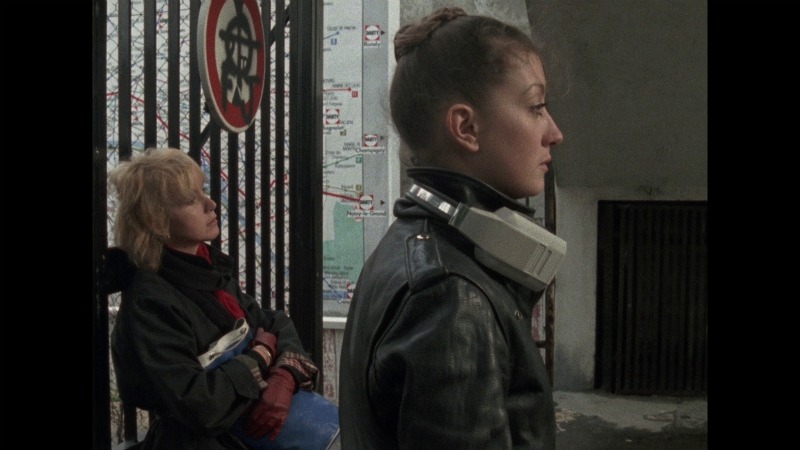 ---
Marie has just been released from prison, and can't seem to get comfortable in any interior space. So she relies on Baptiste's street-wisdom to sleep outdoors over the four days during which the film is set. Marie isn't totally free from criminal association, however – a lover of some sort has roped her back into a scheme that Baptiste is determined to uncover. They walk around a lot and talk about things that have nothing to do with any of this, except for the times they do, and even then, how much? There's a stolen briefcase, a mysterious map, espionage, vandalism, motorcycles, and just the right amount of anarchy. And a dragon (kinda; no, really).
In the booklet included with this release, Francisco Valente writes, "Watching a Rivette film is like going for a walk in your city and not knowing what will happen and whom you will meet," and that provides a good entry point into the filmmaker's rhythm and language. The Paris of Le Pont du Nord is not the exotic locale of certainly Midnight in Paris or even the more homegrown Breathless. Even for those, like me, who have never been, there's something familiar about it, yet clearly not fully explored. The finale, in particular, takes us to the kind of locations that don't get much play in Parisian films, while a new adventure seemingly awaits around every corner, possible new acquaintances and even close confidants all around.
---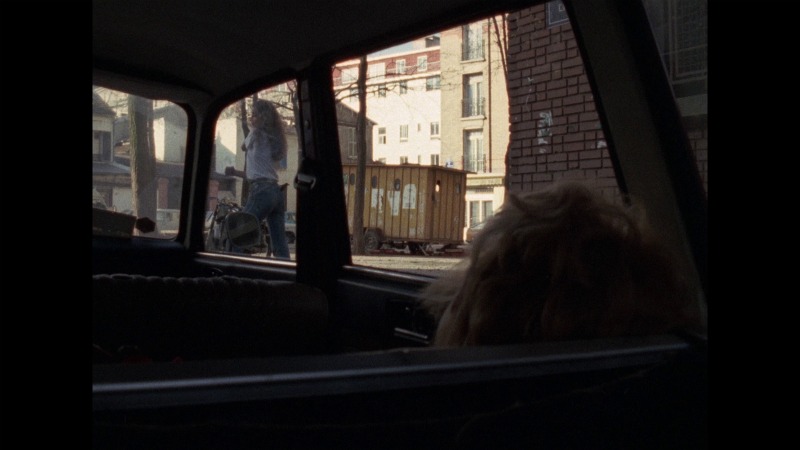 ---
The "accessibility" of the film is something of an amusing topic. It's not hard to "follow" Le Pont du Nord, but that doesn't mean it's easy to totally comprehend. Too many questions, theories, suggestions, and propositions remain nagging at the edges. It has the feeling of a feature-length improv session made by a group of people totally devoted to an unspoken emotion. That alone makes it beautiful.
Despite being widely acknowledged as a major filmmaker, Jacques Rivette's work remains mostly undistributed in the West. Le Pont du Nord only received a North American release this year. Masters of Cinema's release is the first time it's been on Blu-ray, and whatever prior DVD editions existed appear almost impossible to find (when even Amazon French comes up empty, you start to wonder). As such, I am enormously grateful that this (Region-B locked) edition has been made available, and I must say, it looks splendid, if you know what you're looking at. It has tremendous density, plenty of film grain, and a real richness to the colors that hardly betrays the specific quality of their source (that is to say, the palette is naturally dulled and this Blu doesn't try to make it "vivid"). There are a few flaws in the print, and MoC renders them so naturally, you could project this and almost fool someone into thinking it's 35mm.

---
---
The only special features reside inside the booklet, which, thankfully, is quite lengthy. There is some correspondence about the film between Francisco Valente and Sabrina Marques (no, I don't know who these people are – if there's one thing I wish MoC would change about its releases is including a short biography about these contributors), a director's statement by Rivette, other entries from the film's press book, a 1982 essay by Serge Daney, a 1981 interview with Rivette from Cahiers du cinema (for which Rivette once wrote), and, most intriguingly, a script for a short-film homage by actress Kate Lyn Sheil. It's an exciting collection of thoughts, as none of the contributors attempt to explain the film, yet one continually walks away with a clearer understanding. When asked to tell readers what the film is about, Rivette could only reply, "Maybe only anecdotally, because I don't even know what this film is yet – maybe I'll never know, that's what happens sometimes." When I say that the booklet is 56 pages of that, I suppose you'll know whether this release – or, indeed, this movie – is for you.
I hope you'll find that it is. While it'd be easy to say this film is "difficult," in fact, it couldn't be easier. There's very little plot to keep track of, only a handful of characters, and each incident contains an amusing quality. One doesn't like to subscribe systems of beliefs to any opposition, but I can't help but feel that people who react negatively to such films are simply ascribing a set of rules onto the whole of cinema, expecting each film to follow it, and any that don't are "difficult." A child could understand Le Pont du Nord about as fully as most adults, probably better, as they've built up no illusions or expectations. That's a beautiful quality.
---