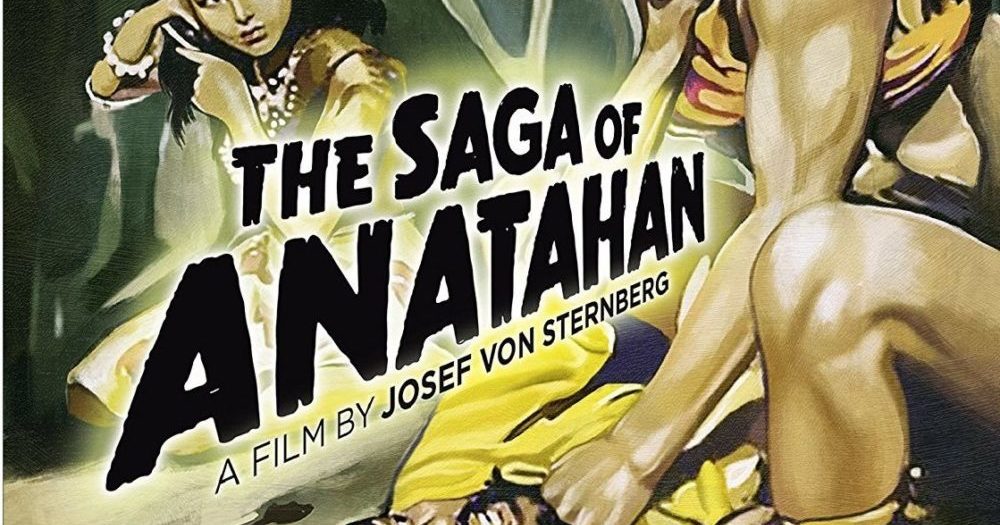 Film culture moves awfully fast sometimes. I had never even heard of The Saga of Anatahan when the New Beverly here in Los Angeles showed it (under the title Ana-ta-han) about a year and a half ago on 16mm. It being Josef von Sternberg's final feature, it was paired with another not-on-DVD title of his, The King Steps Out (1936). Now here we are, Anatahan has toured in a full restoration and is now available on Blu-ray for all to see. The somewhat-superior The King Steps Out has not yet had its day, sadly, but I'm glad for any von Sternberg on Blu in general, and for the chance to revisit and further consider this sincerely odd film.
Von Sternberg was born to a Jewish family in Vienna, emigrated to the United States when he was seven, then back to Vienna three years later, and back to the United States three years after that. Though he made one of his most famous films – The Blue Angel – in Germany, he was otherwise a fully American filmmaker who nonetheless was essentially rootless. It may be unfair of me to read too much into this element of his biography, but one has to search for clues in approaching Anatahan.
The film is based on the oft-repeated account of a group of Japanese soldiers during World War II who, when stranded on an island, live for years unaware that the war has ended. They maintain military order and preparedness, sure the enemy will attack at any time. Even when fliers are dispatched in their region announcing that the war has ended, they think it a ruse to coax surrender. But in the meantime, they're living out their own private dramas, as order begins to fall in the inevitable face of greed, corruption, and pride.
The film was shot in Japan, with Japanese actors, but not a word of their native dialogue is subtitled. Instead, von Sternberg himself speaks a narration track that serves as a sort of "hive mind" for the men, settling on no single man for its perspective, but clearly a memory of what happened over those many years. It's the same strategy employed in The Virgin Suicides, and has a similar effect, making itself seem at once objective and personal; intimate yet reasoned.
I mention von Sternberg's upbringing because it's extremely unusual to find U.S. filmmakers give such sympathetic portraits of Japanese or German soldiers without the aid of an American or British character to relate them to in the years following World War II. He always had a certain interest in defeated people, going back at least to The Last Command, about a former Russian Grand Duke reduced to working as an extra in Hollywood. Morocco, The Docks of New York, and Shanghai Express are about women on the far edges of society finding redemption. The Blue Angel is about the process of defeat. Extending that empathy across the Atlantic to such a different culture, however, is an unusual step.
It's also not one I still think entirely successful. The ending of the film, as reality dawns on the remaining soldiers, is extraordinarily effective, and one of the best sequences in von Sternberg's career. But the whole set-up of the film is inherently…one doesn't like to overuse the word "problematic" these days, so let's say at least dubious. Not only do you have von Sternberg's voice standing in for a mass of Japanese actors more or less divested of their own, but the filmmaker isn't Japanese – his appreciation for and approach to his characters is that of an outsider. It's difficult to quantify this in specifics, but his tone in talking about them is closer to that of a documentarian bringing images of the East to the West than it is an acute portrait of the people themselves.
Despite taking place almost entirely in nature, the film was shot – as with most films of its era – in a studio. Its representation of the jungle is extraordinary, blending a designed element with natural beauty. You could easily watch the bulk of the film and never question its authenticity.
Masters of Cinema's new region-B-locked Blu-ray looks very good, certainly miles cleaner than the 16mm print I saw, perhaps to a fault. The white levels sometimes feel a little strong, but that could just be my personal preference mixed with memories of the print. Grain is perhaps a little thin, but the image generally appears vibrant, rich, and textured.
The disc is quite well-appointed on the supplement front, giving us not only the 1958 uncensored cut as the main feature, but the 1953 censored version as well, also restored and looking very fine. The disc also features an exclusive 45-minute conversation with Asian cinema expert Tony Rayns, a visual essay by Tag Gallagher, an interview with von Sternberg's son Nicolas, and footage of the actual survivors of the Anatahan incident following their surrender. All this helps tremendously in placing the film in its proper context, be it societal, stylistic, or practical. A booklet featuring an essay by Philip Kemp is also included.
I'm glad Anatahan is no longer a mere curio, but widely available for all to see. I don't think it as good as von Sternberg's early masterpieces, but it's a fascinating end to one of the most remarkable careers in Hollywood.