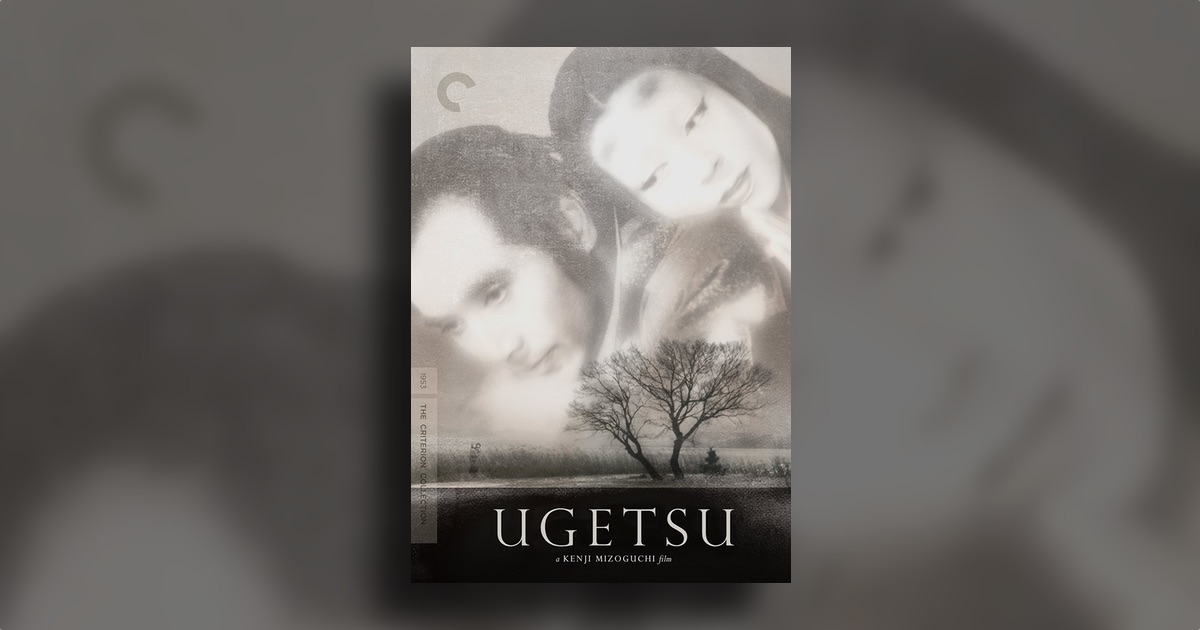 Anytime I watch Mizoguchi's work…really any of it, but especially from this later period of his career – which includes The Crucified Lovers, Sansho the Bailiff, The Life of Oharu, and The Woman in the Rumor – I really am put face to face with how relatively little we gladly settle for in much of the rest of cinema. It's not that there's anything necessarily wrong with all those other movies. Many of them I value a good deal more than I do Mizoguchi. But in Mizoguchi, as one often does in Bergman, you're granted a rare combination of imagination, audacity, and mastery that few films even attempt and very, very, very few manage to pull off. You can too often pick apart some tonal shift, some acting choice, some extraneous scene or shot or just something that doesn't fit. In Mizoguchi's best work, everything fits. It is a confrontation with the very best cinema can be.
So it is with Ugetsu, a 94-minute film that's part family drama, part workplace drama, part war film, part ghost story, part samurai film, and part fallen-woman drama, yet never feels apart from its central purpose, if one could even say it fully has one. Greed, ambition, and ego are central to its thematic and moral concerns, its much older source (a collection of short stories published in 1776) used – as with most lasting films of its period – to explore the lasting wounds of World War II, when men abandoned their families for the glory of battle. This left homes in ruins, families estranged, and women – as Mizoguchi more directly depicts in Women of the Night – to fend for themselves however possible.
This same fate befalls Miyagi (Kinuyo Tanaka) and Ohama (Mitsuko Mito) in Ugetsu, set in the late 16th century. Soldiers roam through the land, as Japan comes further and further into singular rule, in the process ravaging or uprooting villages in an effort to build a bigger and bigger army. Ohama's husband, Tobei (Eitaro Ozawa), is spoiling for a fight, but would rather land in the samurai class. He assists his neighbor, Miyagi's husband Genjuro (Masayuki Mori), with his pottery business, hoping the profits will buy him the proper armor. Genjuro, for his part, is seeking a sort of purity in his craft, and for his success there to give his life purpose.
I don't think I need to state that both their pursuits lead them astray. The most famous thing about Ugetsu is that it is in part a ghost story, and ghost stories are rarely happy stories. The dead rarely hang around just to get drunk and play cards. But none of this is what makes Ugetsu so great, or so perfect. It is the way Mizoguchi unfurls these elements in the film, gradually building them calmly, but purposefully. Known for his rather slow films, I would hardly say Ugetsu moves with any great urgency, but no scene overstays its welcome and Mizoguchi doesn't dwell as much in a space as he did with Oharu the previous year or would with Sansho the following year. Whereas now we are inundated with "slow cinema" that might give us nothing to look at for minutes on end, Mizoguchi always keeps something in motion. It might be his actors, or the camera, or the wind across the water, but he never forgets he's making a motion picture.
It's a motion picture that looks quite extraordinary in Criterion's new Blu-ray edition, which gives us an HD transfer of the 4K restoration produced by The Film Foundation and Kadokawa Corporation. I had no real complaints with Masters of Cinema's now-out-of-print Blu-ray edition from a few years back, which exhibited considerably more damage. This strips all that from the image without losing the filmic quality, and is also a bit less contrast-y to my eyes. It's a definite step up, lending the film more depth, dimension, and especially texture. That said, for those hesitant about double dipping, I would only say that's between you and your God. If the damage on the MoC edition is especially annoying, then sure, go for it, but the MoC is really quite good in every other respect.
Where one might be more tempted to upgrade would be in the special features. MoC's edition was no slouch, including as it did Mizoguchi's quite fine Miss Oyu in HD and an interview with Tony Rayns (plus, if you bought their box set, a rather impressive 344-page book). But Criterion has a full commentary track by Rayns, a two-and-a-half-hour documentary on Mizoguchi by Kaneto Shindo (whose own filmmaking career began around the time Mizoguchi's was ending, though he is best-remembered now for his work in the 1960s), interviews with first assistant director Tokuzo Tanaka and cinematographer Kazuo Miyagawa, plus an appreciative interview with director Masahiro Shinoda. All this, plus an honest-to-goodness book with an essay by Phillip Lopate and three short stories that inspired the film. I've only been able to sample all these, but suffice to say there's more than enough here to make up for all the complaints lodged against Criterion's for the paucity of supplements on The Story of the Last Chrysanthemum last year. Buy both, and use what you have here to apply across the board. Add in Jeffrey Angles' commentary on Sansho if you still think you're missing out.
At any rate, Criterion is at once overdue in bringing Ugetsu to Blu-ray and right on time to utilize this wonderful new 4K restoration. This makes a handsome companion to their other Mizoguchi Blu-ray releases, which look quite wonderful all together on the shelf there, utilizing similar font and everything (only Sansho stands out a bit with its color, but then Sansho stands out in a lot of ways). It's a really beautiful edition for as perfect a film as I've ever seen.