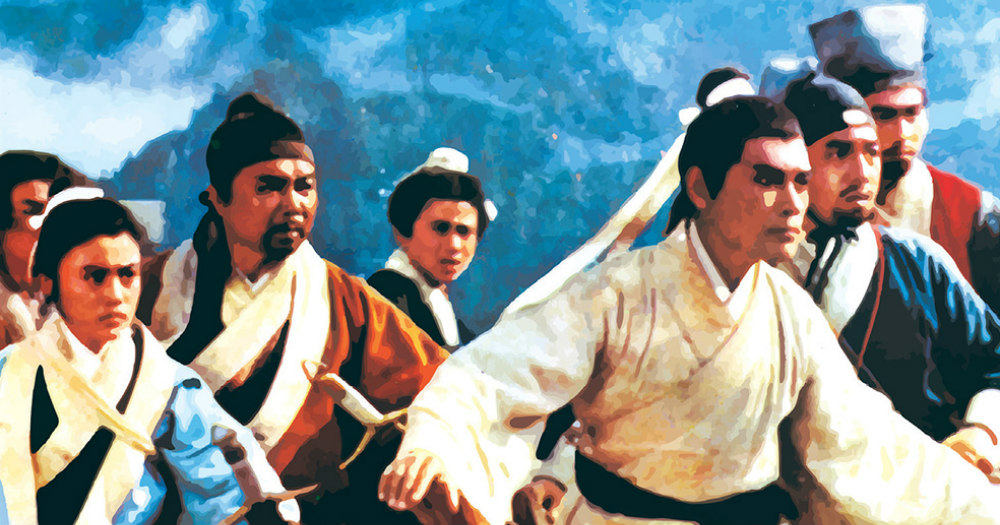 It comes as some considerable comfort that The Assassin is far from the only martial arts movie with an impossible-to-follow plot. Having relatively little experience with the genre (I saw Eight-Diagram Pole Fighter some years back), I really only had imitations and postmodern riffs to inform me as to what to expect from King Hu's Dragon Inn. The film delivers on certain archetypes – the wandering warrior, the erratic and unpredictable crime family, the good-natured-but-easily-intimidated innkeeper, and increasingly-impossible physical feats. What I didn't expect was how foregrounded these pleasures would be, how completely the plot would warp to suit them best, and how little I needed to worry about keeping track of why this guy was punching that dude. The punch alone was enough.
The inn itself, an early converging point for ne'er-do-wells, is something of a perfect representation for this. The inn has no present guests, nor is it expecting any. It simply exists, isolated, on the edge of nowhere. The perfect place to gather. The villains quickly take over the place, reserving every room, and ordering the inn's staff (the inn's owner is not on site for the time being) to refuse any further help to any other traveler. But what's this? Who's this stranger coming in. He says he's old friends with the owner? Doesn't mind waiting for his return? That can't be good.
One of the truly satisfying conflicts in fiction is that between a man who just wants to accomplish some simple task, and will fight to the death to see it through. Xiao (Chun Shih) isn't looking for trouble, as they say. He seeks only a meal and a bench. But attempts to kill him mount; we know he'll avoid them will skill and apparent ease. And this is where the inn really comes into play. Every element of its decor seems crafted specifically to be used against him or to aid him. Cups, barrels, tables, benches, railings; everything is quite literally up for grabs. The stunts range from hilarious (a member of the staff attempting to warn Xiao of a poisoned cup) to thrilling (a sudden sword thrust at just the right moment). Xiao is an unmovable object pit against an unstoppable force, and his cause is so immediately relatable – he just wants to be left alone. There's no question of honor or any formal challenge. He just wants some damn soup.
---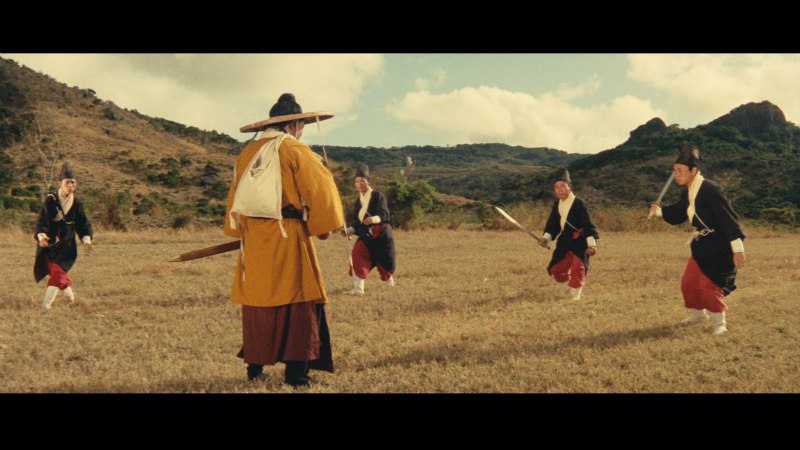 ---
Things, of course, escalate from there. The stakes get bigger, the threats more dangerous, the stunts more implausible, and a bit of magic for good measure. The final showdown is as spectacularly insane as the first few were quietly stunning. Villains start leaping between trees at impossible speeds (as though leaping between trees at an ordinary speed would be expected), a bit of sorcery is deployed, fantastic teams are assembled with tightly-choreographed battles taking place on multiple planes of the frame. This is hugely accomplished filmmaking in service of the pure thrill. What could be better.
Masters of Cinema presents a new, restored transfer of Dragon Inn on Blu-ray, and it's really hard to imagine it looking much better. I noticed nothing in the way of damage, no compression artifacts, fantastic stabilization…all the things I usually take issue with for robbing the image of its vitality, but there's something to it that still seems to breathe. The colors are vibrant, but have a depth and texture to them representative of the finer 35mm prints. Detail is excellent, but not so crisp that there isn't a trace of the sort of warping you see in a typical projection. Darker scenes, too, aren't pitch-black, but the sort of slightly-light black that prints tend to give. Grain is minimal, but just right. I was quite awed by the work done here. (screencap courtesy of DVD Beaver)
On the disc, look for an excellent video essay by David Cairns, which looks textually at how Hu utilizes these elemental aspects of cinema to thrill the audience, in spite of the intricate and difficult-to-follow plot. The booklet comes stacked with an appreciation by filmmaker Tsui Hark, a brief overview of the characteristics of inns in Hu's work, a short essay on Hu's archetypes, and a longer essay by Tony Rayns. Rayns gets more into how the film reflects Hu's other work, sharing some anecdotes from interviews and conversations he had with the filmmaker, as well as contextualizing it in the 1960s martial arts scene.
This is a characteristically brilliant release from Masters of Cinema, giving us a film not terribly lauded in the west in a gorgeous presentation with a small selection of tastefully-curated supplements. Our tendency in the home video reviewing racket is to praise releases with an abundance of supplements, feeling good if even only half of them are at all worthwhile. But I really cannot appreciate enough the way MoC boils it down to the essentials, making every feature revelatory and insightful.
---