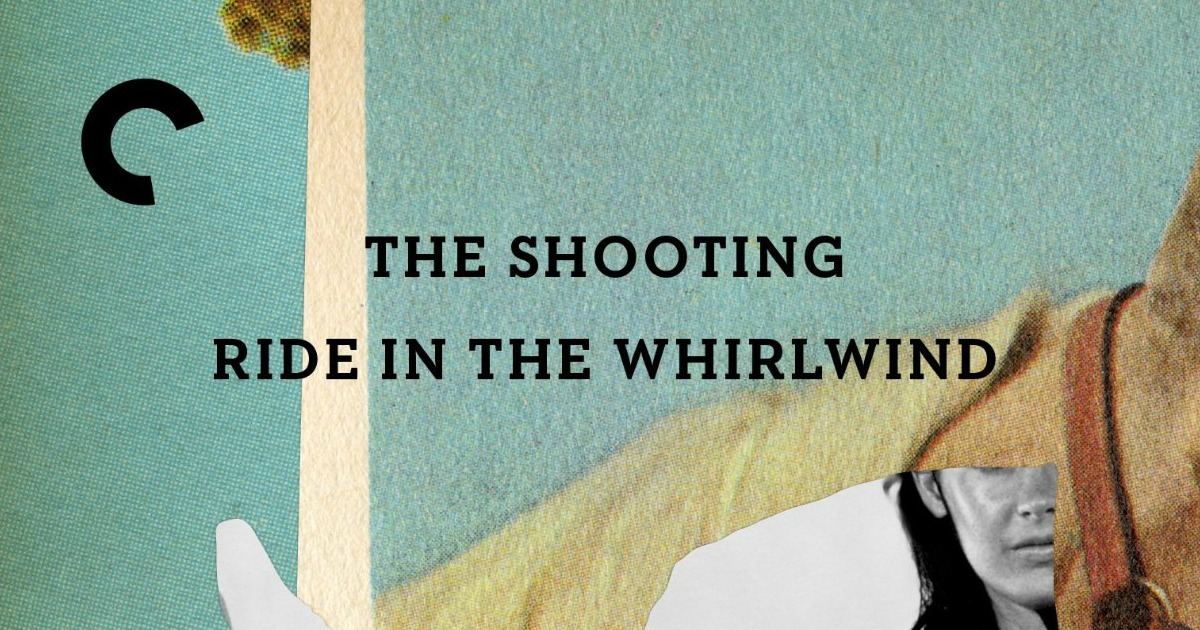 One of the greatest things the Criterion Collection has done lately—besides putting out an absolutely gorgeous book which any of your are more than welcome to buy me for Christmas—is to beef up the movies in their western genre. Just like any of the themes of movies they have to explore in the collection, you have your undeniable classics like Ford's Stagecoach and My Darling Clementine, your notorious entries like Howard Hawks' Red River or Michael Cimino's Heaven's Gate, and you have some solid titles like the Delmer Daves double feature of 3:10 to Yuma and Jubal to round it out.
But it's safe to say that there are no westerns in the Criterion Collection like Monte Hellman's The Shooting and Ride in the Whirlwind. Strike that, there aren't many westerns period that are like Hellman's pair of revisionist films that came towards the end of the tumultuous 1960s. Both films, which feature similar casts, were shot back to back, and were apart of a two-for package deal by infamous producer Roger Corman, carve out a unique niche in the genre for Criterion. In fact, Hellman's The Shooting is considered the first in the sub-genre of so-called "acid westerns," which laid contemporary 1960s counter-culture ideologies over the classic tropes of the western.
Make no bones about it, The Shooting is the undeniable star of the package and is the glorious antithesis of most of the westerns in the collection. A twisting and intentionally confounding minimalist tale about a mysterious woman (played by Millie Perkins) who leads a bounty hunter (played by the inimitable Warren Oates) and his companion (played by the innocent, Leave-It-To-Beaver-esque Will Hutchins) on an equally mysterious revenge mission in a desolate landscape, the film plays out like an old west version of an Antonioni film or Waiting for Godot (in fact, "Looking for Godot" might have made an intriguing alternate title). Much of the specifics about why she's leading them, why they follow her, and what they're looking for is left up in the air, but the motivations for each are found embedded within the rich text of this strangely magnetic movie.
As with most of the best Modernist art, the specifics aren't the point, and it's the eerie and elliptical journey populated by vividly realized characters that make the movie. Oates saunters through each scene, pulling the audience in, while Perkins' steadfast and unsettling presence does the same despite seemingly turning the audience away with her character's steely resolve. A young Jack Nicholson's appearance later in the film as a black-clad sharpshooter hints at his later magnetism as an actor, even when his entire part involves him showing up and challenging Oates. He's written simply as a literal embodiment of forces that haunt the others and it's still one of the highlights of the movie.
Ride in the Whirlwind is the definite companion piece of the release, both hinting at some of the more abstract details from The Shooting but still encompassing a more straightforward western narrative. A trio of cowboys (including Jack Nicholson as the more junior member of the group) are mistaken for a similar group of outlaws (led by Harry Dean Stanton) who infamously rob stagecoaches, and must hide from a group of vigilantes out for justice. Millie Perkins features again—in a completely opposite role—as an innocent farm-girl who must unwittingly house the cowboys in her mother and father's farmhouse as they hide out.
The fact that the film is more straightforward almost plays to its detriment when taken alongside The Shooting, whose essential function seems to be subverting and toying with genre tropes. But Ride in the Whirlwind offers a great little revisionist western when taken on its own merits. With a script by Nicholson, the story plays with themes of youth and memory, and while it doesn't attempt to garner lofty literary comparisons like The Shooting, Ride in the Whirlwind makes for an equally gritty and engaging alternative.
It seems The Shooting/Ride in the Whirlwind isn't a flashy release that a ton of people have been waiting for, but it's an intriguing one that nevertheless deserves to be found by fans of the genre. Both films question the American mythologies of the western—there's definitely no John Wayne here—but still include themselves nicely within the genre as well. They're movies meant for people to wander into just as the characters themselves wander through the desolate and mountainous western landscapes that populate each film. Their layered and nuanced studies reward multiple viewings, and they've been among the best surprises that Criterion has released this year.
The surprises continue on into the special features as Criterion has put together some nice supplements for context. Criterion producer Curtis Tsui's comments at the most recent Wexner talk about how the Collection attempts to tell a story with each film has really effected the way I look at each release, starting with The Shooting/Ride in the Whirlwind. The light but informative commentaries on both films, the interviews with many of the actors and filmmakers, and the really brilliant Warren Oates video appreciation by critic Kim Gordon leave you with a better understanding of this great little double feature without making it seem laborious or didactic. You're there with Millie Perkins as she recounts basing her Ride in the Whirlwind performance on a chicken, bumbling with Will Hutchins as he talks about late nights with a young Jack Nicholson, and side by side with Hellman and Roger Corman as they recall Corman's hilariously unorthodox filmic practices.
The only gripes with the supplements can be found with something there and something not. Hellman's interview with actor Harry Dean Stanton lasts a puzzlingly short 3 minutes. I think we can all agree than any interview under 5 minutes should either be scrapped or tacked on somewhere else even if it doesn't involve someone as awesome as Harry Dean Stanton. In short, I wish there was more there. The other gripe belongs to the conspicuously absent Jack Nicholson, who has showed up in Criterion releases before, but for nothing conducted by Criterion themselves. Perhaps he was too busy at a Lakers game to offer a few words, but now that I think about it even 3 minutes of Nicholson talking about these movies would have been tantalizing enough.
As I said, these two phenomenal releases deserve to be discovered if you haven't seen them before like me, and until they're uploaded to the Hulu Plus page I'd say it's a solid choice for a blind buy if you're a western fan. If you have seen the two pictures already then Criterion has—as always—done good bringing them to the masses.
---