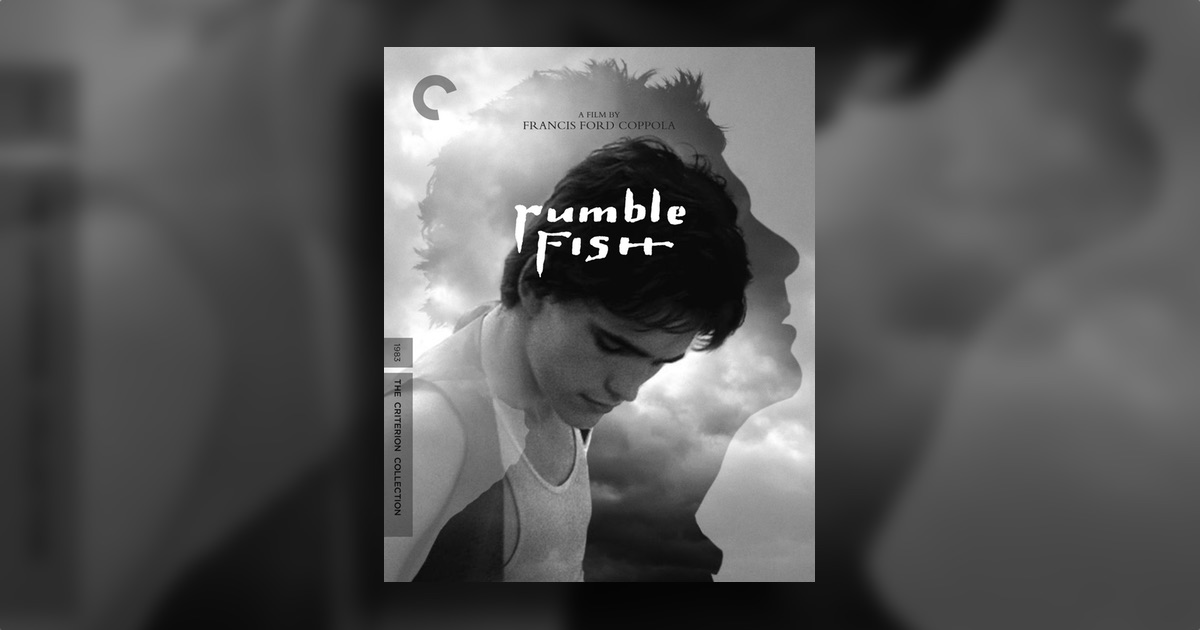 In 1983, while adapting The Outsiders, S.E. Hinton's famous novel about young, full-blooded Oklahoma gangs with names like Ponyboy and Sodapop, Francis Ford Coppola was dissatisfied. He didn't like the style of his adaptation, finding the color and direction too saccharine; here was a film about hard times that risked making those times look like the good old days. During production he started reading another S.E. Hinton young adult book about young, full-blooded Oklahoma gangs with names like Motorcycle Boy, Smokey, and Rusty James: Rumble Fish. While finishing work on the former, Coppola dreamed of filming the latter, which he found personal and saw as the perfect avenue for artistic expression.
The story of Rumble Fish takes us back to the rougher, poorer areas of Tulsa, Oklahoma. High schooler Rusty James is trying to fill a hole that started to fill up space when his brother, Motorcycle Boy, fled the scene for California. Motorcycle Boy was a big deal, not just to Rusty James but also to everyone else. He was a legend. The signs and walls are still tagged with "Motorcycle Boy Reigns." When Motorcycle Boy returns, he hopes that his brother will find a pathway that leads away from destruction rather than constantly spiraling toward it. It's a story about family, loss, and finding surer footing, and it was an inspiration to an artistic filmmaker who was feeling uninspired by his current project.
His fantasies about filming Rumble Fish kept growing. It would be in black and white, because one of the central characters is color blind. He'd make it an homage to German expressionist films of the 1920s by introducing steep angles and painted shadows. A fight scene would look more like a ballet, only unlike West Side Story this one would be truly violent. A dying character will levitate and see who mourns for him. A scantily clad young lady will hang out on the high cabinets of the high school.
Though he had to go to Universal for funds (Warner Brothers, funding The Outsiders, weren't too keen on the prospect), Coppola got his wish. In fact, just a couple of weeks after wrapping on The Outsiders Coppola wrangled together much of the same crew and some of the same cast members to start his production of Rumble Fish. Both films were released in 1983. The Outsiders, which came out in March, went on to make over three times its $10 million budget. Audiences ate it up and, it seems should have been primed for a quick follow up come fall. But Rumble Fish, out in October, only made a quarter of its $10 million budget. A member in the audience with Roger Ebert, who liked the film, got up and said he wished he'd stayed home and watched Dallas on the television. It's probably that this financial failure led directly to The Godfather: Part III, which Coppola never wanted to make but which would fill up coffers again.
This week, The Criterion Collection has given us access to see more of the depths in Coppola's artistic vision that was dismissed upon its initial release, and hopefully more people will be in a position to reevaluate such a personal project from such an acclaimed director.
With Rumble Fish Coppola went beyond where his audience, his studio, and many of his fans were willing to go in an effort to satisfy his artistic desires. He may have gone too far for even fans of Criterion's strangest offerings. Rumble Fish is an indulgent, highly stylized, sometimes awkward bit of cinema. Just check out this trailer:
If one isn't in a generous mood while viewing the film, I don't think the film's virtues come to the forefront. Its style is constantly challenging the story, threatening to be the only thing a viewer registers. The score tugs in the same manner. Much of Matt Dillon's Rusty James — "My brother's the coolest" — is consciously over the top. Was Coppola trying to alienate his audience? And just how did Universal respond when they saw what was going on? I'm just glad I wasn't there.
However, if one is willing to look behind these elements and trust Coppola, whether it appears he deserves it or not, there's much more to this strange film. I'll admit here what you may have already guessed: I'm not the biggest fan of Rumble Fish. I find it difficult to trust Coppola fully. However, it's stayed under my skin, and The Criterion Collection edition, which is filled with valuable new interviews with many involved, particularly Coppola himself, has given me pause and made me reconsider the film again, just as I hope it does for others. It's been a fine experience.
What struck me more this time around was the sense of loss. There's blatant loss in the film, of course — this is a gang movie — but there's also subtle loss, depicted beautifully as the clouds move across the sky. What is lost day-by-day, simply because time is passing? And what, in this particular case, is lost day-by-day when time passes with such toxicity? The score suddenly isn't so out of place; rather, it feels like time is collapsing around the characters as if the sky is falling in. The acting is over the top because these hearts are about to burst like a machine building up way too much pressure.
I've realized this high-volume style, which can be unpleasant, turns out to serve the film's themes better than any nostalgic tone could. I may not enjoy it, but I'm appreciating Rumble Fish more and more. I'm finding nooks and crannies that house surprisingly rich veins of gold. Thanks to the supplements, I've started to see less Coppola's boldness and more of Coppola's own tiny tremors. The material has become beside the point. My discomfort with the style, my growing sense of why a man in Coppola's position chose that style, has begun to bear its own strange fruit.
Products from Amazon.com
Price: $22.97

Was: $25.99

Price: $17.97

Was: $22.20
‹
›