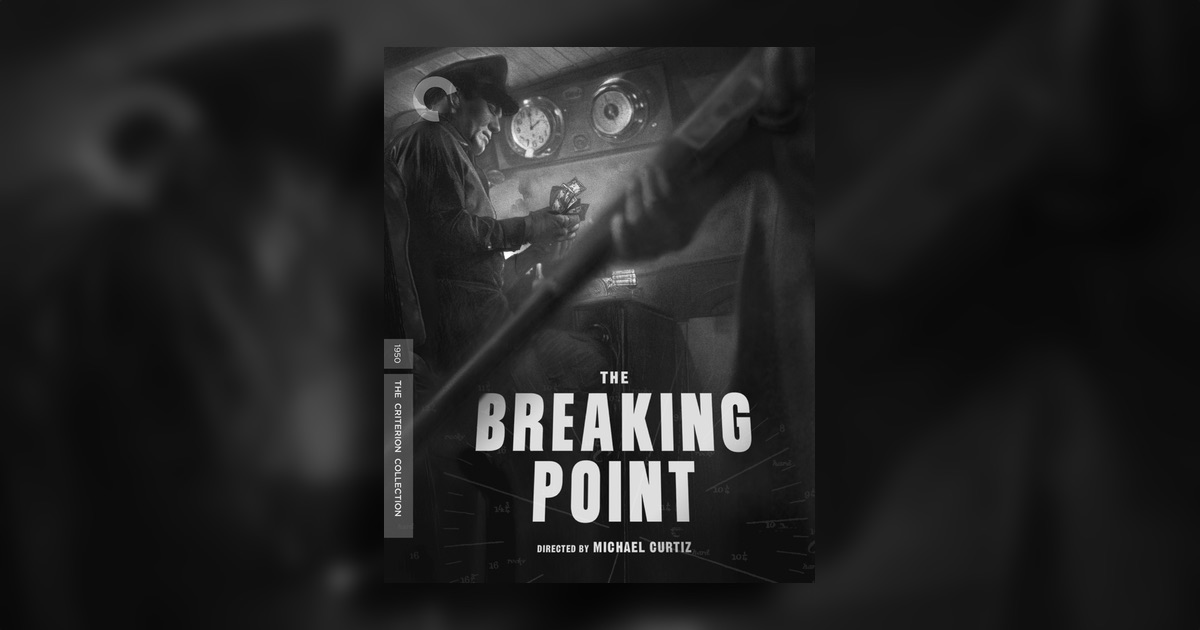 From the beginning of Michael Curtiz's 1950 film The Breaking Point, things are dire for Captain Harry Morgan (John Garfield). Since serving in the military, Harry's ambition has been to start a fleet of boats to escort sport-fishermen through the waters around Southern California and the Baja Peninsula, but that venture has failed to take off. He has one boat, the Sea Queen, and he's the only captain in his fleet. When the film begins, Harry has a new client but has to spend the last of his cash to fill up his boat with fuel for the pending excursion. This particular job is a matter of survival, not prosperity.
But his own survival is only a part of this transaction. Curtiz quickly takes us into Harry's modest seaside home, which, at first, looks as charming as any in an old sitcom. After spending the last of their living expenses on that fuel, Harry goes home to finish his packing and say goodbye to his wife, Lucy (Phyllis Thaxter), and his two young daughters.
The tone is foreboding, but Lucy manages to pierce the heavy veil a number of times with genuine love and hope, and with a degree of forthrightness and expectation for respect that I found refreshing in a 1950 Hollywood film (or any film). First, not one to simply sit back and accept her husband's moods, she wastes no time before asking her husband just what's wrong. Things have been tough for a while, but this shows they've worked it out together. And Harry doesn't hem and haw and skip around the point: he tells her about the money, apologizes, and tells her she can sell some of his tackle for cash if they need it while he's away. She admits it will be difficult but thinks they'll survive without resorting to that.
She also gently reminds him that it might just be time to give up on his dream. He takes this as it is meant: a pathway to better days for them all. She looks forward, still proud and giddy about her husband, though he senses his greater days might just be behind him. He's threatened to float adrift, but his family and family have served as an anchor. The constructive, mutual trust between husband and wife in this scene doesn't last through the movie, though. The title tells you just about where Captain Morgan is right when the film begins.
This domestic scene is brief, taking less than the first ten minutes of the film, but succinct. It's crucial, something Curtiz obviously knew as it's directed with immaculate precision. Curtiz's skill, particularly within the film's domestic scenes, is analyzed and praised in one of the Criterion release's best supplements, Taylor Ramos and Tony Zhou's video essay "Fluid Style: Michael Curtiz and The Breaking Point." This first scene allows us time to get to know our characters' troubles and relationships, making all that follows that much more intense.
What does come next? Well, without getting too into it, despite the risks, with no money to his name, Harry and his faithful partner of twelve years, Wesley Park (Juano Hernandez), another anchor Harry should hold on to, go out to sea to make an honest buck.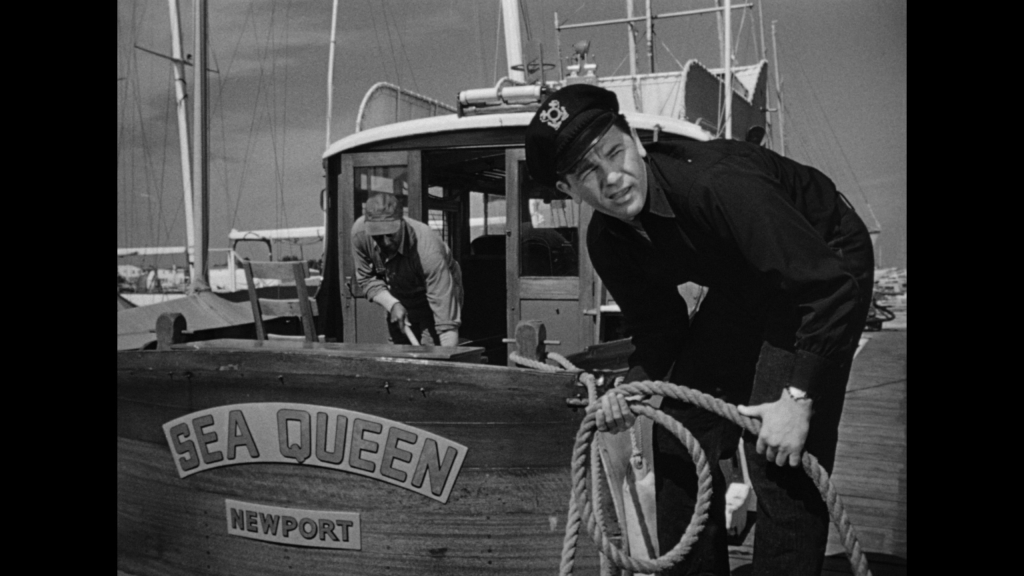 If only everyone were so honest. After taking his client, and his client's surprise tag-along Leona (Patricia Neal), on the fishing trip and to a quick retreat in Mexico, Harry realizes that all of the signs pointing to his doom were correct. Swindled, abandoned, and broke in Mexico, Harry feels like he's run out of honest options himself.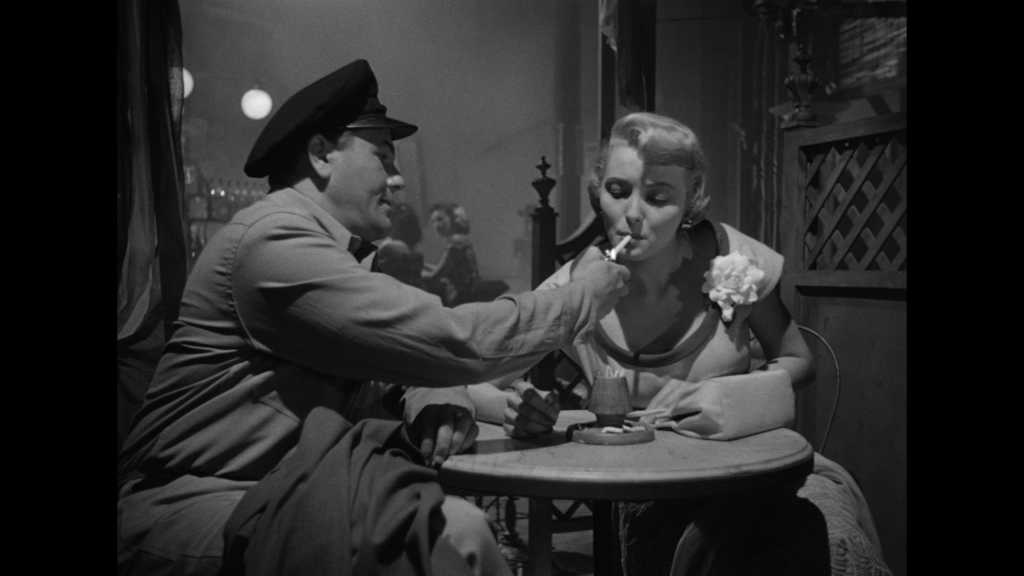 Reluctantly, Harry agrees that, just this once, he'll assist with a smuggling operation. A handful of Chinese men are trying to make their way to America. This live cargo does not help Harry get out of the hole that has opened under his feet. Fighting criminals, the law, and a savvy, brilliant other woman, Harry's strength is on display throughout, even as we know he cannot withstand all forever.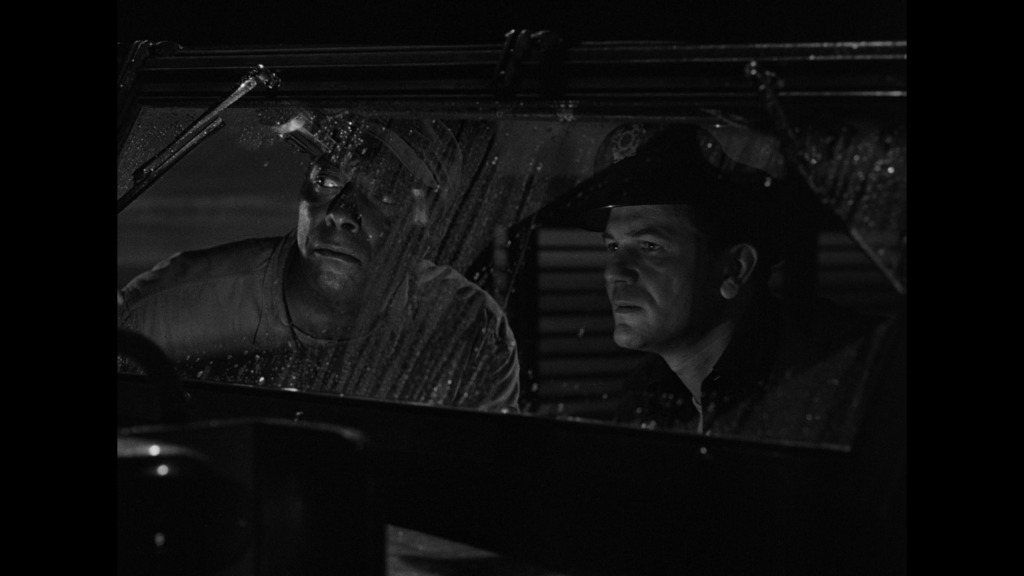 The Breaking Point is a relatively faithful adaptation of Ernest Hemingway's 1937 novel To Have and Have Not, which was adapted into the 1944 Howard Hawks film of the same name, starring Humphrey Bogart and, in her debut, Lauren Bacall. That is a great film, taken on its own. However, according to Stephanie Zacharek's essay, "The Breaking Point: All at Sea," included with the Criterion disc, Hemingway himself thought The Breaking Point was the finest film adaptation of his books.
I can't see any reason to argue with the great American author here. The film is tough, touching, tense, and textured. It feels like it's been long in the shadows, but this new Criterion release should change that with its great presentation of the film alongside strong, rewarding supplements.