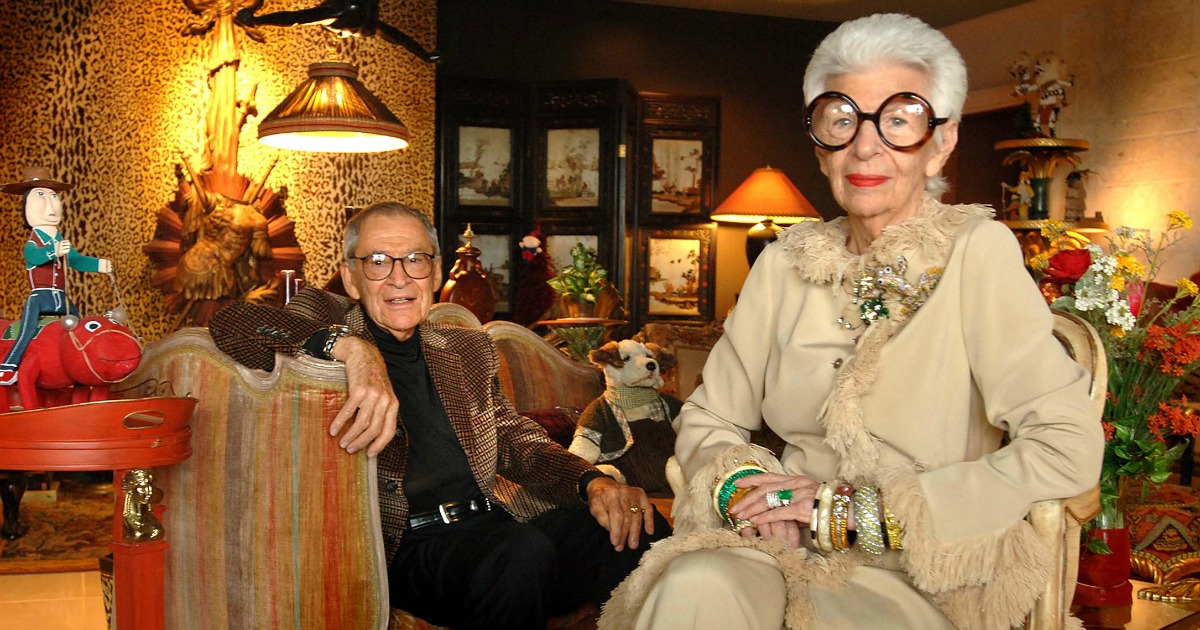 For over half a century, documentarian Albert Maysles—usually in collaboration with his brother David—has chronicled the iconoclasts, the eccentrics, the weirdos, and the identities of human beings in the most earnest and direct way a man with a movie camera possibly can. Now Maysles—without David, who died of a stroke in 1987—soldiers on to continue that direct method of cinema with his portrait of Iris Apfel, the outspoken style icon and so-called "Rare Bird of Fashion" who in her 80s and into her 90s took the fashion world by storm.
Her flamboyant techniques and maximal chic aesthetic is matched only by her highly entertaining and hilariously brusque personality, which makes it easy to see why Maysles chose to capture her on film in the first place. Yet Iris isn't only about a legendary and stylish nonagenarian. Instead, Maysles frames his brief film of Apfel's story as a celebration of a prolific life, and a commentary about mortality and the ways in which a true one-of-a-kind can leave an everlasting impression.
Apfel, with her gigantic round-rimmed glasses and mountains of resplendent but simple fashion accessories, is truly an individual, and the film embodies a similar character-based kookiness found in Maysles' 1975 classic Grey Gardens. But instead of the type of solemn links to history and family that earlier film carries with it, Iris keeps things fairly straightforward and enjoyable.
Talking heads like Harold Koda (the head of The Metropolitan Museum of Art's Costume Intitute), designer Dries Van Noten, and photographer Bruce Weber chime in to put Iris and her gigantic personality into perspective for viewers. Personally I had no idea who Apfel was, and Maysles does a wonderful job of providing context on top of character moments, like when Apfel oversees a makeover even at Loehmann's department store or when she takes a trip to Harlem with designer Duro Olowu to haggle prices on the various wild looking garments she comes across.
The foundation of the film, however—besides her newfound celebrity—is her relationship with her 100-year-old loving husband, Carl, who always sticks by her like a dynamic duo sidekick and serves as an alternate canvas for Iris' ostentatious fashion trends (one great scene involves Iris' appearance on Martha Stewart's talkshow, and Carl pointing out that Iris bought his outrageous velvet paisley trousers). Maysles' keen eye finds the heartfelt rhythm and eccentricities between the two that point towards the universal, elevating them as human beings contrasting the mythmaking at play throughout the movie. You get the obvious sense that theirs is a relationship that was meant to be, and the strength of their love is retold through memories of the origins of their successful garment business called Old World Weavers, an endeavor that made them rich beyond their wildest dreams and let them jet-set across the world, sparking Iris' fascination with fashion.
What's great about Iris is that it seems like an unnecessary and simple story on the surface, but Iris herself injects enough compelling beats into her own story that the film never registers as anything but fascinating. Whenever she takes a moment to reflect it's always with a biting humor, especially when the subject of death wades through the film. She is someone who confronts her own mortality by pushing it out of the way, and staying resolute in her already complete and accomplished life. Iris is a relatively small film, but what it truly has to say about the way we are makes it a rich and endearing entry into Maysles' already complete and accomplished career.