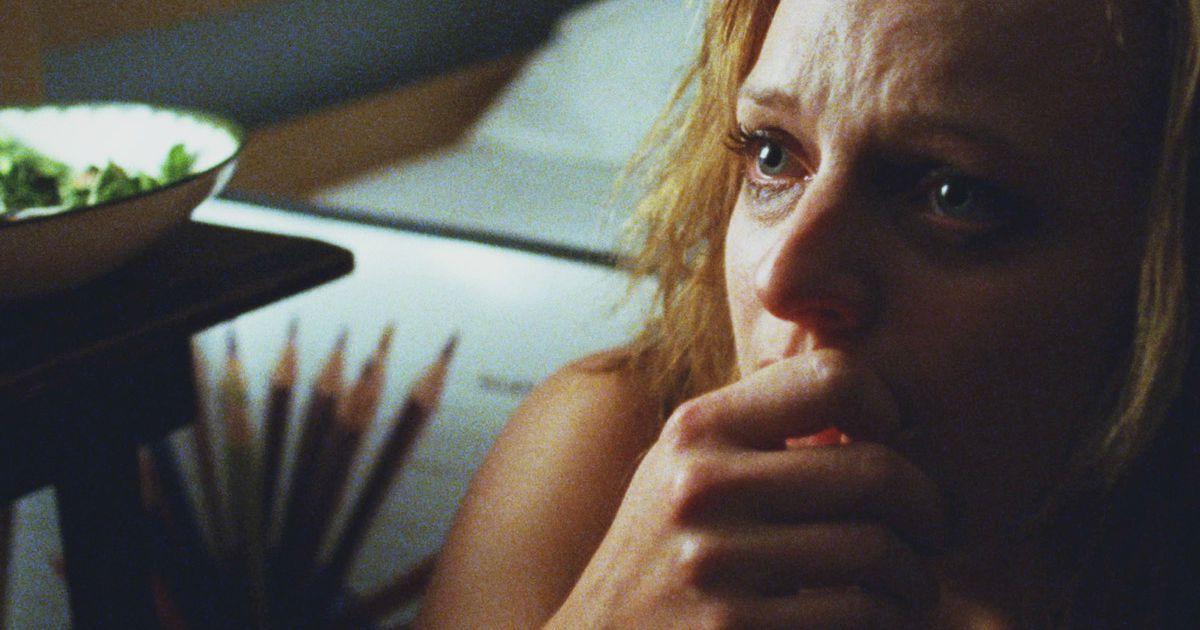 It's something to be the star of one of the most beloved TV shows of any given length of time. It's an entirely different proposition to be a star of one of TV's greatest series during arguably its highest peak. That's the case for former Mad Men star Elisabeth Moss. Arguably the heart and soul of what has become one of the golden properties of TV's "Golden Age." However, it's been a different story when it comes to cinematic work, for Moss. Despite garnering great notices in a film like The One I Love, her career has been filled primarily with bit parts and character performances that instead of leading a picture, make use of her abilities to sink into smaller roles.
Hopefully that all changes after her second film with director Alex Ross Perry, Queen Of Earth.
---
---
Taking the lead role, Moss stars here as Catherine, a young woman apparently on the verge of a psychological implosion. After her father, a well regarded artist, passes away, her boyfriend James kicks her to the curb, sending her life into a downward spiral. Deciding she needs some rest and relaxation, she heads out to her friend's lake house in the hopes of "getting away." However, not only does she continue to mentally break down, but she is reminded of the summer just one year prior, evolving the story into something far less A Woman Under The Influence and far more Repulsion.
Her second go around with director Perry, after last years brilliant Listen Up Philip (which both I and Scott Nye have reviewed here), this is a decidedly different venture for all parties involved. Arguably the heir apparent to the throne currently held by filmmakers like Noah Baumbach, the usually smaller scale, more esoteric Perry goes out of his comfort zone here. Instead of toying with ground usually trampled by names like Woody Allen, Perry's latest is an effort closer related to works of directors like Bergman or more clearly Roman Polanski. Very much carrying with it his typically dense screenplays that very easily walk the line between pretentiously dry and thematically rich, Queen Of Earth is a whole different type of monster aesthetically. Not afraid to draw direct and crystal clear inspiration from Polanski's early work, some sequences, particularly near the film's finale, seem to be directly referencing that filmmaker's early features.
Repulsion is clearly an inspiration here, and it is seen in both theme work as well as the use of an almost specter, stalker-like camera, floating through this remembered nightmare like a ghost its character will never quite be able to shake. The grain here is tactile and gives the film an urgency and vitality that is rarely seen in today's cinema. His camera work is expressive, and yet deeply claustrophobic, almost from the very first frame, which will be an opening sequence that may go down as one of 2015's most haunting. It's a powerful and brilliantly composed piece of thriller filmmaking that gets to the very DNA of what makes a psychological thriller so inherently tense and unshakeable.
---
---
That is, after all, what the film is at its very core. While the film is ostensibly a character drama about a friendship under duress, this is a psychological thriller through and through. Again, influenced by Bergman and Polanski, the film takes a person's recovery from tragedy and uses that as grounds to examine the way we as humans deal with grief and loss. It's a film steeped in the tradition of world cinema masters of generations prior, and takes a decidedly dry and darkly comic look at one woman's grieving process. The film is layered heavily with the blackest of comedy, and the central relationship here is richly fractured and garners some of the best work to date from to of today's most exciting actresses.
While Moss gives a career making and defining turn as our lead, the scene stealer here is Katherine Waterston. Taking on the role of Catherine's friend, Virginia, her role is as important to the success of this film as Moss, if not more so. Their relationship feels real and tactile, a lived in relationship that comes out of what appears to be real connection between the two actresses. It's truly their show, and they more than provide enough muscle to make what may be one of the year's greatest films. There are two solid turns by Kentucker Audley and Patrick Fugit as the men in these women's lives, but while they add some depth to the film, they don't carry much of the film's weight in their interchanges with our leads.
Overall, while this type of psychological thriller is one definitively inspired by those of an age long thought dead, there is so much vitality and life under its surface that it feels more of this time period than arguably any film yet seen this year. One of 2015's richest and most rewarding films, director Alex Ross Perry and his muse Elisabeth Moss have made an absolute masterpiece that should not be missed. Drenched in an air of pitch black humor, Queen Of Earth is an achievement unlike any we've seen in quite some time.