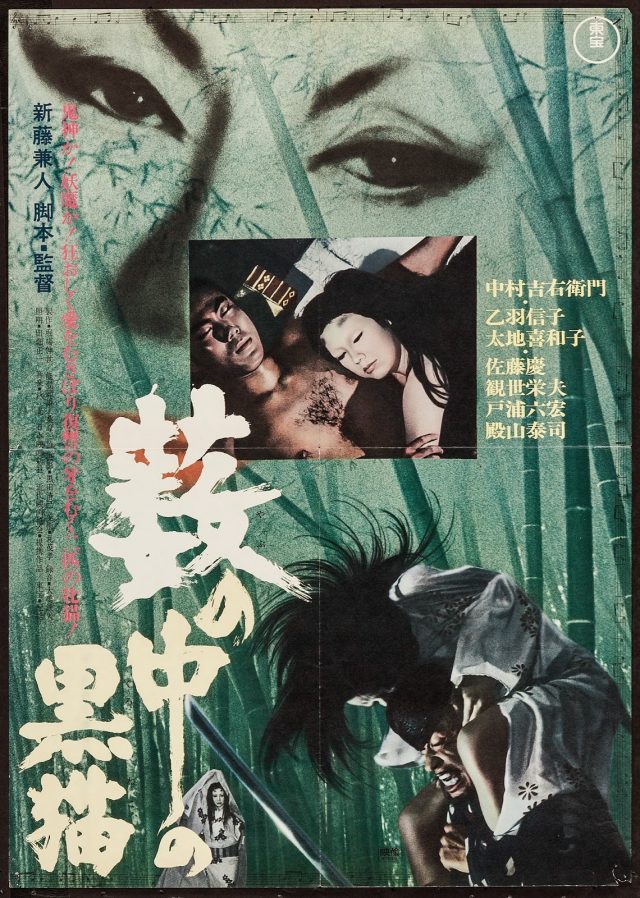 Hey, let me start off here by welcoming my friends who followed me on my Criterion Reflections blog and are sticking around to carry on my chronological exploration of the Criterion Collection. Reading my stuff here on Criterion Cast is probably not that big of a jump for most of you, since I've been writing for this site since 2010, but this post does mark a significant transition for me. I appreciate the positive comments that have been sent my way in various formats since I came to the end of that particular rope a couple weeks ago. But enough about that then! I'm eager to share my thoughts on Kuroneko, a beautifully creepy and hauntingly mesmerizing film from 1968 directed by Kaneto Shindo.
David's quick take for the tl;dr media consumer:
Impressive, atmospheric Japanese ghost story that employs stark minimalist set design, poised performances in the Noh tradition and brisk, unorthodox editing to dazzle our senses, while focusing our  thoughts on the downside of using violence as a means to satisfy our lust for sex and revenge.
Kuroneko (translated title: "Black Cat") feels timeless and singular, an exquisite specimen of supernatural horror that plays out with eerie grace, inducing deeply felt tingles of dread and fascination. The story presents us with the spectacle of two women, brutally raped and murdered by a marauding gang of warriors, who return from the dead to fulfill a sinister oath of vengeance that cruelly backfires on them when they're forced by their vow to destroy a man they love.
How it speaks to 1968:
To give a sense of how the film was originally promoted in Japan, here's the original theatrical trailer (available on the Criterion disc, kindly posted on YouTube by Masters of Cinema, which uses a different transfer – see Scott's review below for more about that.)
As a Criterion release, Kuroneko feels like Shindo's natural follow-up to Onibaba, another spooky tale of vengeance that was released in 1964 to significant acclaim on the international art house circuit. But he did direct a few other films in between, with titles like A Scoundrel (concerning a high shogunate official murderously obsessed with a beautiful married woman), Lost Sex (about an artist rendered impotent by radiation by the atomic blast at Hiroshima) and Libido (for which I cannot find a plot synopsis online, but come on, the title says plenty enough already.) For viewers tuned into Shindo's work, as the trailer above indicates, a new film by the director offered up the promise of an intense and provocative viewing experience. (Unfortunately for Shindo, Kuroneko was deprived of its chance to make maximum international impact when its debut at the 1968 Cannes Film Festival was canceled by political protests that brought France to a state of societal gridlock for several weeks that spring.)
Given the heightened erotic tensions that permeate the two Shindo titles currently available on Criterion discs, it appears that Shindo was pretty deep into exploring his theme, over the course of several films, of how sexual cravings are corrupted by the pursuit of power and the abusive impulses of those who use positions of advantage to humiliate their conquests. This was definitely in line with territory being explored around the same time by Nagisa Oshima, whose films of this period have been the focus of my attention over the past few weeks as I reviewed Death By Hanging and recorded a pair of Eclipse Viewer podcasts on Oshima's Outlaw Sixties. A couple of familiar faces from those two films, Kei Sato and Rokko Toura, show up in Kuroneko to play important supporting roles, lending some nice continuity and smoothing my transition away from Oshima and back into this timeline. But the real stars here are the two women, Nobuko Otowa (Shindo's wife and lead character in most of his films from this period) and Kiwako Taichi, who play a tormented, viciously feline mother and daughter tandem, and Kichiemon Nakamura, a trained kabuki actor who takes on the challenging role of Hachi, the son and husband respectively of the two women. The arc of his character requires Nakamura to run the emotional gamut, transitioning from a panicky foot soldier scrambling for dear life, pursued by an ogre wielding an iron club to an eager climber in the military hierarchy, promoted far above his natural station, due to lucking into a heroic kill on the battlefield. Having achieved his success, he soon comes to grips with a terrible loss he has suffered as circumstances force him to become a commissioned monster hunter, paid assassin, grieving husband, aroused lover and ultimately a bewildered novice locked into a desperate struggle against evil supernatural forces he's hardly prepared to face.
How it speaks to me today:
While I don't typically go too far out of my way to go track down eerie cinematic variations on the classical ghost story theme, I'm usually happy enough to check them out when they land in my path. Kuroneko is a great discovery and watching it now really heightens my anticipation of the upcoming release of Shindo's first international hit The Naked Island, which Criterion will issue in May. I was reminded of that earlier film on a few occasions as the director was content to dispense with all of the dialogue and almost all recorded sounds for long stretches of time throughout both. The stark minimalist approach to audio content heightened that sense of dislocation and timelessness that kept me glued to the screen over repeat viewings as I eagerly focused on Shindo's macabre visual poetry. The swoosh of flowing gowns trailing behind leaping and twirling bodies… structures that seem to disturbingly float silently through space… the alienating scale of thick stalks of bamboo, growing like grass, reducing humanity to an impersonal ant-like scale as the subjects of the film vainly seek to find satisfaction for their transitory appetites… It's a graceful yet doom-laden scenario as characters one by one spiral downward on their fatal trajectories.
I also appreciated the simplicity of Shindo's approach, forgoing any cheap or clunky attempts to forge some kind of visually convincing transformation of the women into the black cats referred to in the title. Instead, he just cut jarring extreme close-ups of the feline heads into the stream of images here, dropped in an ordinary yet ominously foreboding "meow" into the soundtrack there, and made ample use of impenetrable inky black background space in contrast with the jolting, angular foreground imagery and create an atmosphere of haunted hyper-reality. Certainly the sexual politics of Kuroneko continue to challenge and critique more complacent understandings of gender relations, leading us to contemplate that seemingly restless, eternal rivalry. But even on the level of surface delights and exuberant escapism when I'm in the mood for "something different," this film gives me a lot to recommend on its behalf.
Previously on Criterion Cast:
SCOTT REVIEWS KANETO SHINDO'S KURONEKO [MASTERS OF CINEMA BLU-RAY REVIEW] from 2013
JANUS UNVEILS SAM'S MYTH'S KURONEKO POSTER and JANUS FILMS SCREENS KURONEKO AT FANTASIA FEST from 2010.
Recommended reviews and resources:
Blu-ray.com
Cats on Film
Cinelogue
Criterion Confessions
Criterion on the Brain
Film Freak Central
Geeks of Doom
Japanese Culture Reflections
Lone Wolves and Hidden Dragons
New York Times (2010 theatrical review)
Sam's Myth Blog: Process art for the 2010 theatrical release poster (and eventual Criterion Collection cover) for Kuroneko
Kaneto Shindo obituary (2012) in The Guardian
Wikipedia
Shindo Masterworks at the Harvard Film Archive
Trailer for Cinefamily's original presentation of
Benicio del Toro Presents: Kaneto Shindo: A Retrospective:

Next: I Am Curious (Blue)