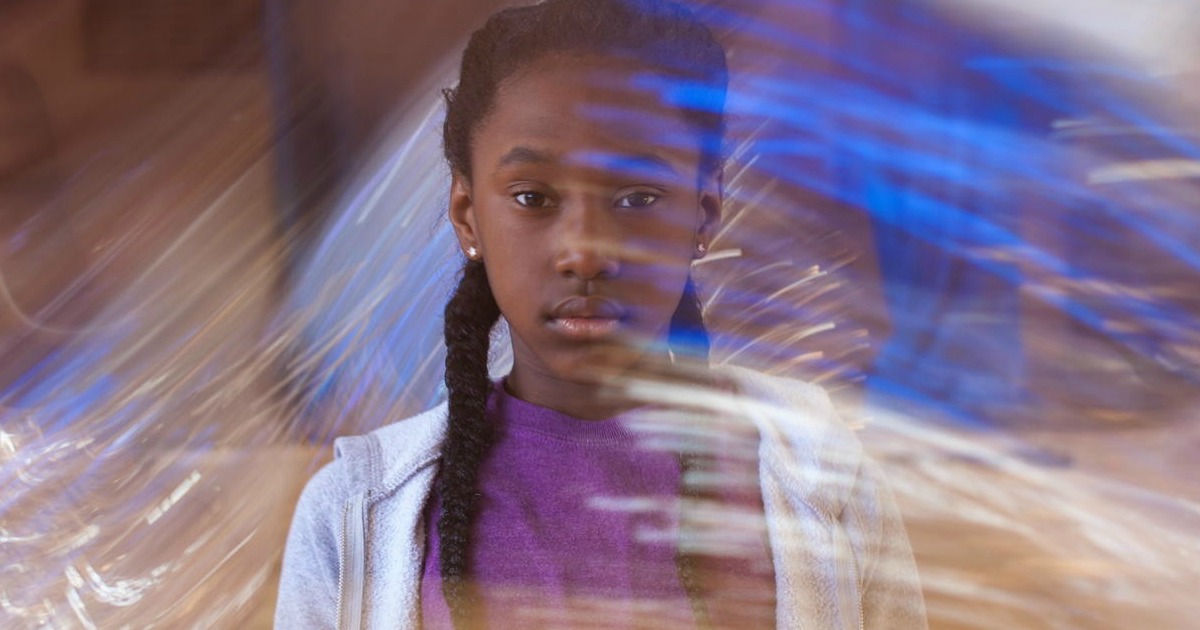 It goes without saying that we're in something of a strange moment in history. With the world upended entirely due to the ongoing COVID-19 pandemic, the last of our worries should be what the world of cinema is doing to cope with the shutting down of theaters and postponing of films both great and small. However, that's exactly what we're going to be doing here in the first of a regular series highlighting the upcoming additions to all your favorite, more niche, streaming services. Hope you all find something here you'll enjoy in these trying times.
While most of Mubi's lineup is relatively secret each month (that's part of the services fun), some of the titles are given in advanced, and April is one of the company's more exciting months. For example:
Probably the most exciting addition in April is Jodie Mack's masterpiece The Grand Bizarre. A fascinating, joyously radical film, I previously reviewed the film as part of PIFF 2019, and described it as such:
Mack may not be a household name, but those with eyes towards the boundary-pushing world of visual art will be familiar with her and her exciting project, Bizarre fitting right alongside it. Once again using stop motion animation to tell her story, which is hard to truly describe despite its simple logline and brief 60-minute runtime. More or less a travelogue following a collection of brightly colored textiles and fabrics as they go along their journey from creation to completion, that one-liner doesn't truly do this film justice. A percussive, vital rumination on modern life, Bizarre is ultimately interested in production and consumption, travel and time. Be it the natural beauty surrounding us all like fire or waves crashing onto a beach, or the semiotics of various cultures whose language is seen and music is heard throughout this esoteric picture, Mack's vision is decidedly global despite the brief runtime. At just 60 minutes, the film has the energy of a dance party and is gorgeously shot on richly textured 16mm, embracing textures both sonically and visually.
Underrated Quebecois filmmaker Denis Cote gets a moment in the spotlight on April 21 with the addition of his incredible Ghost Town Anthology, a strange and startlingly quiet rumination on grief that evolves into a horror film that's equal parts thought provoking and genuinely unsettling. Cote's brand of realism may come off as somewhat austere but here it's in service of a film that embraces the rawness of his aesthetic for a narrative that subverts all genre conventions. It's truly something special.
Jean-Paul Belmondo gets a birthday double feature on April 10 and 11, with a pair of Jean-Pierre Melville films in the form of Leon Morin, Priest and Le doulos respectively. Both films are must-see works from two of French cinema's true screen giants, with Priest being the film I'm most excited to see on streaming out of the pair. It's an undervalued masterpiece that finds Belmondo at the very height of his powers.
With his festival darling Martin Eden (hopefully) arriving in theaters in May, director Pietro Marcello also gets a double feature on April 12-13. Both The Mouth of the Wolf and Crossing the Line arrive on the service in April and with Edin becoming one of world cinema's more talked about films over the last calendar year, it'll be quite interesting to dive head first into a director on the verge of a true breakthrough.
Finally, April 27-29 sees the MUBI debut of Wang Bing's decade-best documentary Dead Souls. I had the pleasure of reviewing the film back at the end of 2018 so I won't go too long here, but this roughly 500-minute oral history of atrocities committed by the Mao regime in China is one of the more harrowing and evocative works of non-fiction cinema of the 2010s. Bing has become a juggernaut not just of documentary but world cinema writ-large, for his epic, emotionally devastating anthropological works. Less focused on nuts and bolts of Maoist China or what contextually birthed these camps and this torture, there's an incredibly specific focus on the experiences of these survivors, which as seen in numerous title cards across the film, proved to be the one and only chance these people would get to tell their story before their deaths. It's an unfathomably devastating documentary, a film that feels almost shameful to discuss as anything more than a towering event in anthropology.
Despite being a new kid on the block, the service is celebrating its first year up and running, yet their new releases are a bit harder to come by. The most exciting addition to the lineup (as of 3/25 only a handful of films through 4/7 have been announced) is probably Randall Wright's quite good Hockney. Looking at the life of the legendary artist of the same name, the film gives a shockingly first hand view of the life and times of the iconic multi-hyphenate, coming alive whenever he comes on screen. Be it him discussing his life or his perspective on art, he is a charismatic presence, and while the voice behind the crafting of the film may lack a critical tone, it becomes a character study of one of art's great geniuses. A fascinating film arriving on OVID on April 2.
Now the big guns. No time for small talk, here are just a few highlights from a packed April:
It's back! On April 8 the brilliant Columbia Noir series returns with 25 films, 13 of which are new to the series. Big hitters like The Big Heat and Gilda are back on the service as part of this series, as well as incredible lesser regarded titles like the shockingly haunting Drive a Crooked Road. This is a stacked lineup that, upon its debut previously on the service, stood as one of the cornerstone collections the service has ever curated in its now year long run. Here's the full lineup:
Blind Alley, Charles Vidor, 1939
My Name Is Julia Ross, Joseph H. Lewis, 1945
Gilda, Charles Vidor, 1946
So Dark the Night, Joseph H. Lewis, 1946
Dead Reckoning, John Cromwell, 1947
Johnny O'Clock, Robert Rossen, 1947
The Lady from Shanghai, Orson Welles, 1947
In a Lonely Place, Nicholas Ray, 1950
The Mob, Robert Parrish, 1951
Affair in Trinidad, Vincent Sherman, 1952
The Sniper, Edward Dmytryk, 1952
The Big Heat, Fritz Lang, 1953
Drive a Crooked Road, Richard Quine, 1954
Human Desire, Fritz Lang, 1954
Pushover, Richard Quine, 1954
Tight Spot, Phil Karlson, 1955
5 Against the House, Phil Karlson, 1955
Nightfall, Jacques Tourneur, 1956
The Harder They Fall, Mark Robson, 1956
The Brothers Rico, Phil Karlson, 1957
The Burglar, Paul Wendkos, 1957
The Lineup, Don Siegel, 1958
Murder by Contract, Irving Lerner, 1958
The Crimson Kimono, Samuel Fuller, 1959
Experiment in Terror, Blake Edwards, 1962
Toshiro Mifune's 100th birthday is April 1, so in honor of the legendary actor the service will be highlighting 26 of the actors greatest performances like his now iconic turn in Seven Samurai to my personal favorite (and his best film with longtime partner in crime Akira Kurosawa), 1963's brilliant High and Low. Toss in a career retrospective documentary from 2015, and you have a series that's as extensive and exhaustive a document of one artist's career as the service has ever offered. Again, here's the full lineup:
Snow Trail, Senkichi Taniguchi, 1947
Drunken Angel, Akira Kurosawa, 1948
Stray Dog, Akira Kurosawa, 1949
Rashomon, Akira Kurosawa, 1950
Wedding Ring, Keisuke Kinoshita, 1950
Scandal, Akira Kurosawa, 1950
The Idiot, Akira Kurosawa, 1951
The Life of Oharu, Kenji Mizoguchi, 1952
Seven Samurai, Akira Kurosawa, 1954
Samurai I: Musashi Miyamoto, Hiroshi Inagaki, 1954
Samurai II: Duel at Ichijoji Temple, Hiroshi Inagaki, 1955
I Live in Fear, Akira Kurosawa, 1955
Samurai III: Duel at Ganryu Island, Hiroshi Inagaki, 1956
The Lower Depths, Akira Kurosawa, 1957
Throne of Blood, Akira Kurosawa, 1957
The Hidden Fortress, Akira Kurosawa, 1958
Muhomatsu, the Rickshaw Man, Hiroshi Inagaki, 1958
The Bad Sleep Well, Akira Kurosawa, 1960
Yojimbo, Akira Kurosawa, 1961
Sanjuro, Akira Kurosawa, 1962
High and Low, Akira Kurosawa, 1963
Red Beard, Akira Kurosawa, 1965
The Sword of Doom, Kihachi Okamoto, 1966
Samurai Rebellion, Masaki Kobayashi, 1967
Zatoichi Meets Yojimbo, Kihachi Okamoto, 1970
Red Sun, Terence Young, 1971
Mifune: The Last Samurai, Steven Okazaki, 2015
Both Gary Cooper and Jean Arthur also get the retrospective treatment. Cooper on April 12th with 19 films and Arthur two weeks later on the 26th with 16 features respectively. I'm particularly intrigued by the Arthur series, which includes films like Only Angels Have Wings (currently available) as well as a personal favorite The More The Merrier. She's a fascinating screen presence and while Cooper has the name, I feel far more interested in diving head first into Arthur this quarantine season.
Finally (and by finally I mean my hands are cramping and I could go for days about this upcoming lineup) a few films I've reviewed for the site and are finally getting their time in the spotlight. First is Gianfranco Rosi's incredible Fire At Sea, arriving on April 7. The film is still one of the most potent and emotionally devastating ruminations on the migrant crisis, a documentary that's as harrowing as it is enveloping. And then eight days later is The Fits from director Anna Rose Holmer, and honestly what more can I say about the film that I already haven't? Not just one of the best films of its year but of the 2010's entirely, Holmer's film is a beautiful and transfixing coming of age story that's simply unlike anything you've ever seen before. Arriving on the 15th with an audio commentary to boot, this is without question one of the more exciting additions of a genuinely stacked April lineup.
Here's the full list of additions:
5 Against the House, Phil Karlson, 1955
8th Continent, Yorgos Zois, 2017
The Adventures of Marco Polo, John Ford and Archie Mayo, 1938
Affair in Trinidad, Vincent Sherman, 1952
Alps, Yorgos Lanthimos, 2011**
Anatomy of a Murder, Otto Preminger, 1959
Angels Over Broadway, Ben Hecht and Lee Garmes, 1940
Annie Hall, Woody Allen, 1977
Arizona, Wesley Ruggles, 1940
Ball of Fire, Howard Hawks, 1941
The Big Heat, Fritz Lang, 1953
Blind Alley, Charles Vidor, 1939
Bonjour tristesse, Otto Preminger, 1958
The Brothers Rico, Phil Karlson, 1957
Bunny Lake Is Missing, Otto Preminger, 1965
The Burglar, Paul Wendkos, 1957
Captains Courageous, Victor Fleming, 1937
The Cowboy and the Lady, H. C. Potter, 1938
The Crimson Kimono, Samuel Fuller, 1959
The Crossing Guard, Sean Penn, 1995
Dead Reckoning, John Cromwell, 1947
The Devil and Miss Jones, Sam Wood, 1941
Dogtooth, Yorgos Lanthimos, 2009**
Down to Earth, Alexander Hall, 1947
Drive a Crooked Road, Richard Quine, 1954
Ebirah, Horror of the Deep, Jun Fukuda, 1966
Europa Europa, Agnieszka Holland, 1990
Experiment in Terror, Blake Edwards, 1962
The Ex-Mrs. Bradford, Stephen Roberts, 1936
The Eyes of Laura Mars, Irvin Kershner, 1978
A Farewell to Arms, Frank Borzage, 1932
Fire at Sea, Gianfranco Rosi, 2016
The Fits, Anna Rose Holmer, 2015
The Fountainhead, King Vidor, 1949
Foxy Brown, Jack Hill, 1974
Friendly Persuasion, William Wyler, 1956
Godzilla vs. Gigan, Jun Fukuda, 1972
Godzilla vs. Hedorah, Yoshimitsu Banno, 1971
Graduate First, Maurice Pialat, 1978
The Hanging Tree, Delmer Daves, 1959
The Harder They Fall, Mark Robson, 1956
Here Comes Mr. Jordan, Alexander Hall, 1941
Human Desire, Fritz Lang, 1954
I Am Not a Witch, Rungano Nyoni, 2017**
If You Could Only Cook, William A. Seiter, 1935
The Impatient Years, Irving Cummings, 1944
In a Lonely Place, Nicholas Ray, 1950
Irma Vep, Olivier Assayas, 1996
Johnny O'Clock, Robert Rossen, 1947
Kinetta, Yorgos Lanthimos, 2005
Klute, Alan J. Pakula, 1971
Lilac Time, George Fitzmaurice, 1928
The Lineup, Don Siegel, 1958
Listen, Rungano Nyoni, Hamy Ramezan, 2014
Little Lord Fauntleroy, John Cromwell, 1936
Loulou, Maurice Pialat, 1980
Love in the Afternoon, Billy Wilder, 1957
Lured, Douglas Sirk, 1947
Man of the West, Anthony Mann, 1958
The Man Who Fell to Earth, Nicolas Roeg, 1976
Mifune: The Last Samurai, Steven Okazaki, 2015
The Mob, Robert Parrish, 1951
The More the Merrier, George Stevens., 1943
The Mouth Agape, Maurice Pialat, 1974
Mr. Deeds Goes to Town, Frank Capra, 1936
Mr. Smith Goes to Washington, Frank Capra, 1939
Murder by Contract, Irving Lerner, 1958
My Name Is Julia Ross, Joseph H. Lewis, 1945
Nightfall, Jacques Tourneur, 1957
Party Wire, Erle C. Kenton, 1935
The Pawnbroker, Sidney Lumet, 1964
Performance, Donald Cammell and Nicolas Roeg, 1970
Pixote, Héctor Babenco, 1981
Police, Maurice Pialat, 1985
The Pride of the Yankees, Sam Wood, 1942
Public Hero Number One, J. Walter Ruben, 1935
Pushover, Richard Quine, 1954
Raging Bull, Martin Scorsese, 1980
The Real Glory, Henry Hathaway, 1939
Red Sun, Terence Young, 1971
Salome, William Dieterle, 1953
A Scandal in Paris, Douglas Sirk, 1946
The Scar, Krzysztof Kieslowski, 1976
Shaft, Gordon Parks, 1971
Shampoo, Warren Beatty, 1975
Shockproof, Douglas Sirk, 1949
Slightly French, Douglas Sirk, 1949
The Small Back Room, Michael Powell, Emeric Pressburger, 1949
The Sniper, Edward Dmytryk, 1952
So Dark the Night, Joseph H. Lewis, 1946
A Star Is Born, Frank Pierson, 1976
Staying Vertical, Alain Guiraudie, 2016
The Stranger, Orson Welles, 1946
The Strawberry Blonde, Raoul Walsh, 1941
The Talk of the Town, George Stevens, 1942
Task Force, Delmer Daves, 1949
Taxi, Jafar Panahi, 2015
Thank God It's Friday, Robert Klane, 1978
This Is Not a Film, Jafar Panahi, 2011**
Three Days of the Condor, Sydney Pollack, 1975
Tight Spot, Phil Karlson, 1955
The Two of Us, Claude Berri, 1967
Under the Sun of Satan, Maurice Pialat, 1987
Van Gogh, Maurice Pialat, 1991
Vera Cruz, Robert Aldrich, 1954
Wadjda, Haifaa al-Mansour, 2012**
We Won't Grow Old Together, Maurice Pialat, 1972
The Wedding Night, King Vidor, 1935
Welcome to L.A., Alan Rudolph, 1976
The Westerner, William Wyler, 1940
What's Up, Doc?, Peter Bogdanovich, 1972
Whirlpool, Roy William Neill, 1934
The Whole Town's Talking, John Ford, 1935
The Winning of Barbara Worth, Henry King, 1926
You Can't Take It With You, Frank Capra, 1938
VOD
Finally some VOD/Online Theatrical announcements. First up, Icarus has made available the latest from boundary pushing non-fiction artist Thomas Heise. Entitled Heimat is a Space in Time, the film is a 218 minute epic, attempts to look at the larger history of Germany as told intimately through three generations of his own family. A documentary only in name, really, the film is something far more radical, a deeply personal retelling of a familial history through their own words and letters that rejects typical non-fiction pomp and circumstance instead plays out in a captivating matter-of-fact masterpiece. Truly unlike any documentary out there. A genuine must-see.
Kino Marquee continues to grow, with Ken Loach's brilliant Sorry We Missed You debuting online via the Film Forum. The film joins Bacurau as the labels first attempts at bringing current-run pictures into the homes of film fans across the country.
Focus Features will be releasing Eliza Hittman's Never Rarely Sometimes Always via On Demand on April 3rd.
The brilliant and endlessly timely documentary No Data Plan is finally available to view via virtual theater listings on the film's website.
KimStim is starting to head into the world of VOD as well, with four exciting new announced titles. Leading the way are Roberto Minervini's brilliant documentary What You Gonna Do When The World's On Fire and the underseen gem from director Richard Billington entitled Ray & Liz (April 7th and 14th respectively). Both films will be available through Amazon Prime Video with the former also featured on Vudu, Google Play and FandangoNOW and the latter also featured on Google Play.
More films available via virtual theaters include Bertrand Bonello's great new film Zombi Child, Diao Yinan's thrilling Wild Goose Lake, and Corneliu Porumboiu's genre riff The Whistlers.
Finally, and this has just been announced as I am writing this at 5pm on March 26, but film distributor Cinema Tropical has launched a new streaming arm entitled The Cinema Tropical Collection. The plan for the service will be to stream one film daily, beginning at 7pm EDT, for 24 hours with a new one arriving the following day. From there on the previous film will be available via the brand's VOD arm, Tropical on Demand. Best of the first run? April 12 sees the debut of Gaston Solnicki's incomparable Kekszakallu, a film I've been on the record numerous times as claiming to be one of the more impressive narrative feature film directing debuts of the 2010s.
I'll be updating this as things are announced so stay tuned.